Graves, Hollowell drop times at 10U swim champs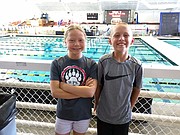 The Hood River Valley Swim Team sent two swimmers to the Arena 10 and Under Oregon Swimming Championships this past weekend at Tualatin Hills Aquatic Complex. The meet was held in their 25-meter pool, otherwise known as short course meters. Willow Hollowell had the top finish with seventh place in the 200 freestyle (2 minutes, 48.36 seconds; time improvement of 6.15 seconds). She was 14th in the 50 backstroke (41.36), 11th in the 50 free (34.90, -.02), 12th in 100 backstroke (1:29.48, -1.42), 10th in the 50 butterfly (39.66, -.31) and 11th in the 100 free (1:19.16, -.49). Max Graves placed 11th in the 100 breaststroke (1:56.71, -.07), and placed 16th in the 50 breaststroke (54.28) Next up for the Osprey is the Arena 11 and Over Oregon Swimming Championships that will be held at Mt. Hood Community College July 27-30. Ten Osprey will compete at those swimming championships.
HRC rec trails closed to motorized use
All Hood River County recreation trails have been closed to motorized use. The Hood River County Forestry Department reports that the Oregon Department of Forestry raised the Industrial Fire Precaution Level to 3 July 14. The waiver that allowed Northwest Area trails to remain open during IFPL 1 and 2 days is no longer in effect. All Hood River County trails will remain closed to motorized use until the IFPL drops back down to a 2. This will most likely not take place until September. Non-licensed motorized vehicles are still allowed on improved forest roads. Improved roads are those that are vegetation-free and rocked. For questions, contact Henry Buckalew, HRCFD trails coordinator at 541-387-7089.
Got Sports Briefs?
Have a news item that would be a good fit for the Sports Briefs section? Email Sports Editor Ben Mitchell at benmitchell@hoodrivernews.com.