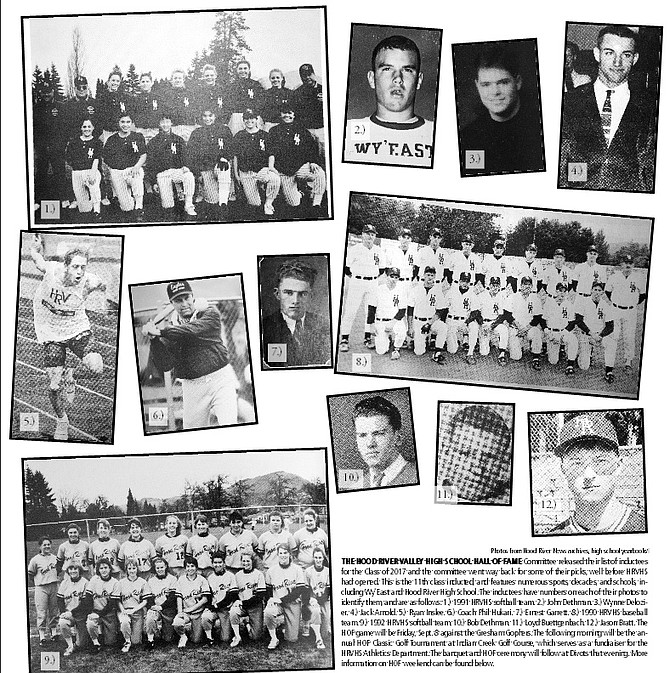 For its 11th class, The Hood River Valley High School Hall of Fame Committee picked a broad sample of prominent athletes, representing a variety of sports, decades, and schools in the Hood River Valley.
Athletes (and coaches) to the Hall of Fame are nominated by the committee on an annual basis, with the ceremony taking place during halftime of a home HRV football game this fall (details at the end of the article). Inductees are nominated for a number of reasons, but usually the athlete has achieved some success at a state level, i.e., made a state finals appearance, was named to an All-State list, won a state championship, etc.
We dug deep into our archives, as well as high school yearbooks, to find photos of the inductees, along with some snippets of their accomplishments.
Ernest Garrett
Our first entry on our chronological list is Ernest Garrett, track star at Hood River High School in the 1920s. Garrett makes the list for being a key contributor to the successful 1926 HRHS track and field season, despite being a "diminutive miler," according to the yearbook. At the state meet, held at Pacific University in Forest Grove, Garrett set a new state meet record, running the mile in 4 minutes, 31 seconds. He represented the Blue Dragons at an interscholastic national meet in Chicago at the end of the season, where he placed fourth in the mile.
Bob Dethman
Bob Dethman was captain of the HRHS football team in 1937 and he helped the Blue Dragons to a runner-up finish in the state tournament during the 1936 season, in which they went 7-1. He was described in the Blue Dragon yearbook as an "expert football toter." Dethman then went on to play football at Oregon State University, where he helped the Beavers pull off a major upset against Duke, 20-16, in the 1942 Rose Bowl (the game was moved from Pasadena, Calf., to Durham, N.C., as Pearl Harbor had recently been bombed by the Empire of Japan, and officials feared an attack on the crowd of football fans). Dethman, a halfback, played a pivotal role, throwing two touchdown passes, the latter of which was the game-winner. Dethman's talents were notice at the professional level — he was taken by the Detroit Lions in the third round of the 1942 National Football League draft.
Loyd Buettgenbach
They may not have won a state championship that season, by the HRHS boys basketball team boasted arguably the most dominant player in the tournament: Loyd Buettgenbach. The Blue Dragons center led all HRHS scorers during the 1946-47 basketball season, taking his team to the state tournament, where he set a new, single-game scoring record of 39 points. Nicknamed "Blitz," Buettgenbach also set a four-game tournament record of 94 points and was a shoo-in for All-State honors. HRHS finished third in the state tournament that season. Buettgenbach was also a member of the 1946 football team that finished second in the state tournament.
John Dethman
Wy'East High School's lone entry on the list is John Dethman, who was a standout on the Eagles' football squad. Dethman made the All-State list twice and was named an All-American by Parade Magazine. Dethman was described by his coach Pete Hopkins as a "flawless" guard on the offensive line, particularly his senior season in 1965. "His ability to open holes and punish defenders earned him status as an all-leaguer, an all-stater and a shriner as well as an All-American," the article stated.
Jack Arnold
Farther down the Hood River Valley, Jack Arnold turned heads in 1965 in the halfback position for HRHS, where he received All-State nods from both the Oregon Journal and The Oregonian despite his "diminutive" stature. Arnold was also a member of the 1964 football team that placed second in the state playoffs. He also played basketball and ran track for the Blue Dragons.
Jason Bratt
Jumping ahead to our first entry from HRVHS, Jason Bratt was a member of the 1988 state championship baseball team that posted a 22-7 record. He was named First Team All-State outfield that season, following up his All-State Honorable Mention the season before (the Eagles had a 22-9 record that year and finished second in the state tournament). Bratt also competed on the ski team.
Wynne Delozier
Wynne Delozier makes an appearance on the list for his prowess on the gridiron. Delozier was a member of the 1989 Eagles football team that had a perfect 13-0 season, bringing home HRVHS' only football state championship to date. He was named First Team All-State as an offensive lineman during the 1990 season, during which the Eagles went 10-1, losing in the semifinals.
Ryan Inslee
Our second track star on the list, Ryan Inslee was a state champion in 1990, taking first place in the 100-meter dash with a time of 11.12 seconds. Inslee took the district title in the same event that year, as well as 1989. He also placed third in the 1990 state meet in the 200, recording a time of 22.88. His 100-meter time today stands at fourth in the school record books.
Phil Hukari
Phil Hukari has had his hand in many sports over the years as a player, coach, and an official, but he makes the list here for his contributions as a coach for baseball and softball. Hukari served as varsity boys basketball head coach for five seasons from 1985-90, amassing a career record of 61-43 and four trips to the playoffs. He also served as head coach for the girls varsity basketball for six seasons from 2004-10, amassing a record of 42-97 and making one state tournament appearance. However, it was varsity softball where Hukari saw his greatest coaching successes. Hukari was head coach for 19 seasons from 1992 to 2010 — over 500 games — during which time he attained a record of 304-205-2. His teams made the state playoffs 11 times and the state tournament finals, bringing home the state title in 1996. Hukari was named 4A Coach of the Year that season.
1990 baseball team
The 1990 varsity baseball team makes the list here for taking the Tri-Valley League championship and the 3A state championship, putting up a season record of 23-8. Members of the team include: James Mehigan, Mike Mahurin, Kerry McGonigal, Chris Guertin, Rob Leiblein, Richard Hicks, Mike Harpe, John Dukart, Rick Johnson, Ryan Frasier, Brian Irwin, Darren Routson, Jarad Swyers, Shane Losee, Glenn Elliott (head coach), Jeff Lahti (assistant coach), Hukari (assistant coach), and Gerry Flink (assistant coach).
1991 softball team
The 1991 varsity softball team was nominated to the HOF for their second-place finish in the state tournament — up until that point, they had a perfect record, finishing 26-1. That remains the all-time best record for HRVHS softball to date. Members of the team include: Heather Shoaf, Michelle Trujillo, Jana Sparks, Michelle Guertin, Maureen Caryl, Emily Routson, Holly Donnelly, Jennifer Hinman, Jennifer Hukari, Tiffany Greenough, April Howser, Erika Nellermoe, Maggie Cantrell, Rachel Draper, Kristy Ybarra, Jennifer Dykstra, Julie Dykstra, Roy Nellermoe (head coach), (Don Craton (assistant coach), and Earl Boots (assistant coach).
1992 softball team
The 1992 varsity softball team makes the list for the same reason: finishing second in the state tournament, after a season that saw the Eagles capture the Tri-Valley League title and attain a record of 27-3. Members of the team include: Ybarra, Shoaf, Hinman, Routson, Julie Dykstra, Jennifer Hukari, Jennifer Dykstra, Sparks, Draper, Donnelly, Nellermoe, Maureen Caryl, Bridi Mehigan, Elise McAlexander, Karyn Berg, Guertin, Jennifer Farlow and Anna Hidle ("bat girl and all-around mascot," according to the HOF sheet), Hukari (head coach), and Cary Mallon (assistant coach).
Hall of Fame weekend information
The Hall of Fame ceremony to honor the aforementioned inductees will take place Friday, Sept. 8 during halftime of the HRV varsity football game against the 6A Gresham Gophers.
HRVHS will also have their Hall of Fame Classic Golf Tournament (scramble format) Sept. 9 at Indian Creek Golf Course. Team check-in is at 8 a.m., shotgun start at 8:30, and the award ceremony at 1:30 p.m. Prizes are awarded to the longest drives and closest to the pin for men and women, as well as prizes for first-, second-, third-, and last-place teams. There will also be a hole-in-one contest, in addition to a raffle. Cost is $350 per foursome or $100 per person (includes green fees, golf cart, lunch, and a goodie bag). The golf tournament serves as a fundraiser for the HRVHS Athletic Department. For more information on how to register, contact Michelle Jacobs at 541-386-2318 or michelle.jacobs@hoodriver.k12.or.us.
Wrapping up the weekend will be the HOF banquet at Divots at Indian Creek Golf Course. Hospitality tour at 5:30 p.m.; dinner and HOF program at 6:30.