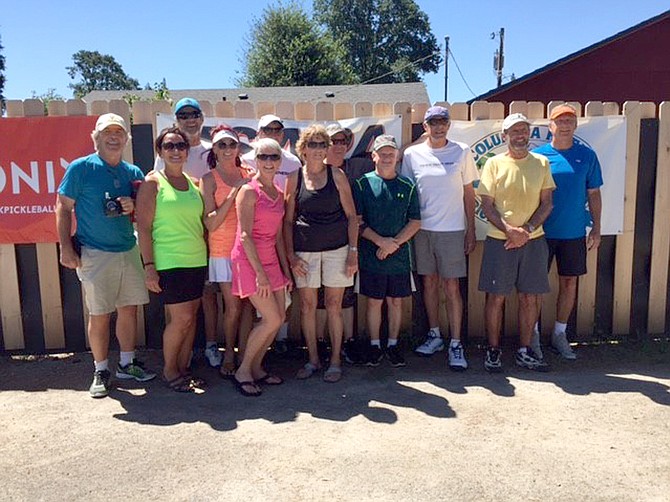 Pickleball continues to grow in the Columbia Gorge. Players from the Gorge Pickleball Association (GPA), as well as many tourists and summer residents, are enjoying the fun, fast, fairly new game called pickleball.

Pickleball, the fastest growing sport in America, is played on a badminton-sized court, with a tennis-type net, a paddle like an oversized ping-pong paddle, and a perforated ball, similar to a whiffle ball. Hood River Community Ed began offering pickleball classes three years ago, and the Gorge Pickleball Association was formed two years ago. Both have seen a steady growth in numbers from eight initial players to now over 100.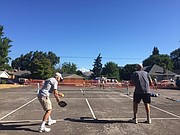 Summer Community Ed Open Play is offered Tuesdays and Thursdays, 5:30-7 p.m. at the Tsuruta Tennis Courts, on May Street (by the pool) until Aug. 3. Morning play is offered by GPA at Coe Park, a concrete slab just north of the hospital, with lines for two pickleball courts on non-windy days.

The local pickleball community was disappointed when the county denied permission to paint pickleball lines on the courts at Oak Grove Park, something that is being done across the country to accommodate both sports. The GPA hopes the decision will be reversed, but, meanwhile, is excited for three dedicated pickleball courts to be built at Golden Eagle Park, near the high school — construction is due to begin soon.
Several out of town visitors have been joining in the fun. Lisa Griffin and her husband John, from Idaho, said, "We love coming and playing pickleball here in Hood River — glad that Hood River is jumping on the bandwagon of the fastest growing sport in America." And Woody Spurgeon, of Connecticut, is "delighted to find such an active and skilled group of players in Hood River." He added that "pickleball is a perfect compliment to the wind sports."
Several local Hood River players have been participating in tournaments around the Pacific Northwest, bringing home lots of medals. Lynn Rasmussen and Elizabeth Whelan each won gold medals for singles play at the Oregon Senior Games tournament in Bend, along with Kim Beam and her sister-in-law Polly Beam, who won at doubles. Lynn and her mixed doubles partner recently got medals at a tournament in Wilsonville, and Elizabeth and John Bryan won at the Oregon State games, held in Portland.
Kevin Beeson, tennis pro from the Hood River Sports Club, has recently been certified by the International Pickleball Teaching Professional Association to teach pickleball. Contact him at the Sports Club if you're interested in lessons. For information about pickleball play, or joining the GPA, contact gorgepickleball@gmail.com.