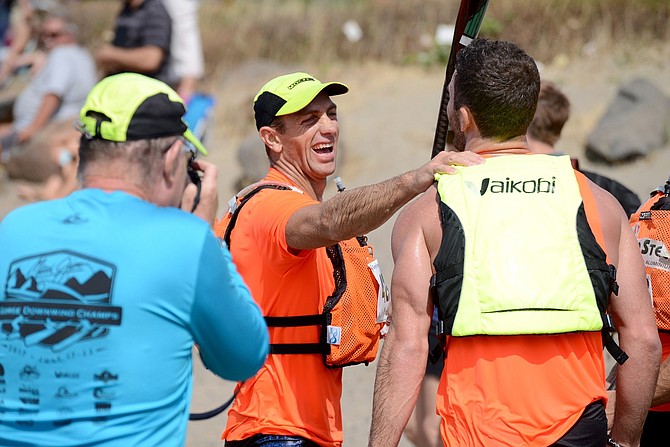 The Gorge Downwind Championships returned to the Gorge last week, bringing paddlers of all kinds from all over the world to the Columbia River for the signature race Thursday afternoon.
Surfskiers, stand-up paddlers (SUP), and outrigger canoers raced downwind from Home Valley to Hood River for the long course and Drano Lake to Hood River from the short course.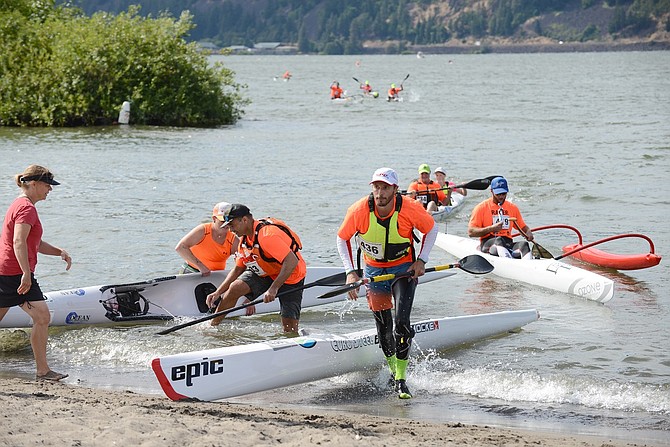 The event has continued to grow for the past few seasons, and this year was no exception, with 450 registering. A total of 396 people completed the race, with 372 of those competing in the long course for cash and prizes. In addition to being one of the "five global surfski title races" according to the Gorge Downwind Championships website, the event also serves as a fundraiser for Rivers for Change, a nonprofit about connecting people to waterways, with the idea that the connection will in turn motivate people to help protect the rivers and lakes they're recreating on.
The event has been dominated by surfskiers in the past, evidenced by the large numbers of participants coming from Australia, New Zealand, and Oceana, where the sport is extremely popular. Surfskiers were still the largest category in the race at 185 participants, but other craft are catching up. Less than 100 outrigger canoers signed up last year; in 2017 142 completed the long course. SUP numbers went up too, increasing from 30 to 45. And while the event does attract people from far away, there were Gorge residents who participated and held their own as well, including Hood River's Fiona Wylde, who took fourth overall and first for women in the SUP long course.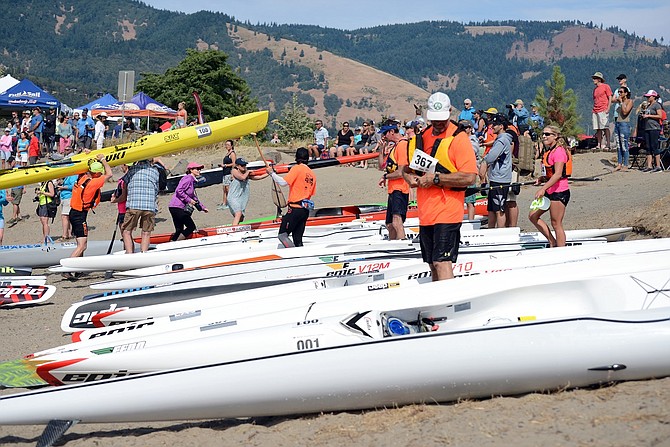 Top three race results for male and female competitors for each course and each craft are listed below. For complete results, go to gorgedownwindchamps.com and click on "Results" under the "Race" tab.
Gorge Downwind Champs Results
SUP long course, male:
Bernd Roediger (1 hour 54 minutes, 2.7 seconds), Chase Kosterlitz (2:04:03.27), Ryan Funk (2:05:47.57.
SUP long course, female:
Fiona Wylde (2:12:56.32), Hannah Hill (2:34:41.39), Angela Jackson (2:39:14.82)
Outrigger canoe long course, male:
Kai Bartlett (1:44:47.45), Kaihe Chong (1:45:06.98), Will Reichenstein (1:46:05.29)
Outrigger canoe long course, female:
Leanne Stanley (2:04:11.96), Lindsey Shank (2:04:51.82), Brandi Baksic (2:09:18.41)
Surfski long course, male:
Kenny Rice (1:32:43.32), Sean Rice (1:33:18.04), Jasper Mocke (1:34:21.21)
Surfski long course, female:
Rachel Clarke (1:46:53.17), Teneale Hatton (1:47:26.74), Hayley Nixon (1:50:55.07)
Short course, all crafts, male:
Laurence Rosen (surfski, 1:00:50.46), Alika Guillaume (outrigger canoe, 1:04:05.35), Thomas Mohr (surfski, 1:04:19.56)
Short course, all crafts, female:
Kylie Rae Marshall (outrigger canoe, 1:15:05.71), Kate Ellis (surfski, 1:18:02.95), Marcia Michel (surfski, 1:22:23.93)