Charlie has been selected by volunteers as Adopt A Dog's adoptable pet of the week. He's about a year old, 73 pounds, and some kind of mix ... who knows?! We're guessing he's got Shepherd, Pittie, maybe snuggle-bug in there?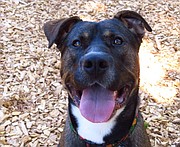 He's very happy and playful and loves people. He's excellent on a leash, and is learning all about fetch and squeaky toys. He hasn't quite figured out how to fit into a lap, but he's working on it! Charlie is playful with other dogs — he's a little big for the small dogs, but he tries. He's very smart, too, and knows several basic commands and will wait nicely for his breakfast, or before heading out a door —usually! He's still practicing that one because the great outdoors is so full of adventure, he can't wait to jump right in!
Charlie settles down nicely, and is always happy to get a belly rub and snuggles. Charlie is current on shots, microchipped and neutered. The adoption fee for Charlie is $205.
Adopt a Dog is run by a small group of volunteers, and, since many of the dogs are in foster, they ask that applications be turned in from the website (hoodriveradoptadog@gmail.com) ahead of time; they'll be in touch to schedule a meet and greet and answer questions. Adoption hours at Hukari Animal Shelter in Odell, 3910 Heron Drive, are Wednesday, 5-7 p.m. and Saturday, 9-11 a.m.
They offer 24PetWatch microchips, which include free registration into the 24PetWatch pet recovery service. For more information visit www.24petwatch.com. or call 1-866-597-2424.