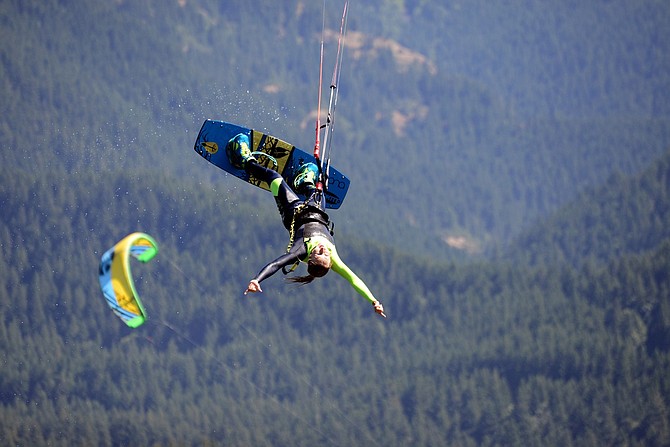 The wind may have been fickle, but it was enough for the Bridge of the Gods Kitefest to go off for a 17th running last weekend in Stevenson.
Approximately 60 people competed in the freestyle kiteboarding event, split up between pro and amateur days, although the amateur competition and the progression of kiters has always been the focus. Riders who take first place in their respective amateur classes must compete at the pro level the following season. Indeed, a few names on last year's amateur list made an appearance in the pro heats for 2017.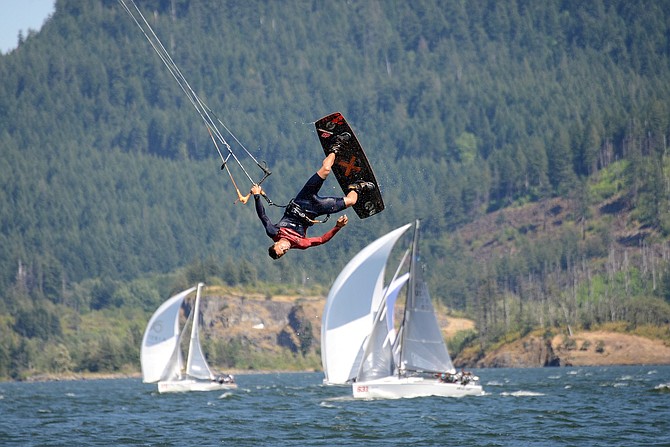 Friday's professional competition saw tardy wind, but riders were able to hit the water at the Port of Skamania around 1:30 p.m., as spectators lounged near the beach and sailors taking part in the Melges 24 NorAm Championships raced nearby (more info below in "Sports Briefs" on upcoming Columbia Gorge Racing Association sailboat races).
The women's competition went off first, with Polish rider Karolina Winkowska taking first place for the second year in a row after advancing past the preliminary round to win in the finals. She was followed by Issy von Zastrow in second place (who took second in last year's amateur competition), Marilys Lacroix Samson in third (who also won for Best Wipeout), and Lauren Holman in fourth.
Also repeating from last year's title win was North Carolinian Reider Decker, who wowed the crowd (and judges) once again in the strapless competition. Trailing Decker in the finals were Reece Myerscough, Matt Elsasser, and James Ropner.
Wrapping up the pro day was the men's competition, which saw Ewan Jaspan, who was born in Scotland but is based in Australia, take first place, moving up from last year's second-place finish. Next was Brandon Scheid, David Tonijuan, and Lucas Arsenault. Blaine Baker was honored for Best Stoke.
The amateur competition was originally scheduled for Saturday morning, but the wind dropped below competition level and the event couldn't be completed until Sunday. That in turn bumped the 17-mile Blowout downwinder competition to this coming Saturday, with Sunday as a backup wind day.
Top honor for the amateur men went to Thomas Aguirre, followed by Vetea Boersma, Brian Frink, Frtiz Otiker, and Sam Bolstad. The best placer for the women was Ellen Cheney, of Florida, then Marie-Eve Mayrand, Ashley Service, Savannah Boersma, and Jenna Venter. Aguirre also took the strapless category, trailed by Ky Zarmati, Vetea Boersma, Bille Kipling, Nemo Taylor, Bolstad, and Justi Vonada.
In the masters category, Taylor, from California, grabbed first for the men, chased by Kipling, Jeff Kraemer, Rich Gardner, Jacob Beuselink, and Neison Frink. Mandi Browning, also of California, took first for the women in the same category; Nina Ergin took second.
Izak Kantor, Joshua Venter, and Kaleb Shumaker went one-two-three in the groms under 18 division, while Tim Walsh, Oscar Friedman, Kenton Romano, and Makiley Olson went one-two-three-four in the groms 14 and under heats.
Other awards in the amateur competition went to Olson (Best Stoke), Serge Romano (Sportsman), Shannon Gowan (Best Wipeout), and Shumaker, Kantor, and Venter (Rising Stars).
---
For updates on the Blowout, go to botgkitefest.com.
---
Another freestyle kiteboarding competition is underway this week and features many of the same BOTG Kitefest participants: the 2017 Spornado Hood Jam, part of the Kite Park League World Tour. Riders compete on the Slider Project features located east of the Sandbar. The event is scheduled to go through July 28, but is, like other kite competitions, wind-dependent. More info and updates can be found at facebook.com/kiteparkleague.