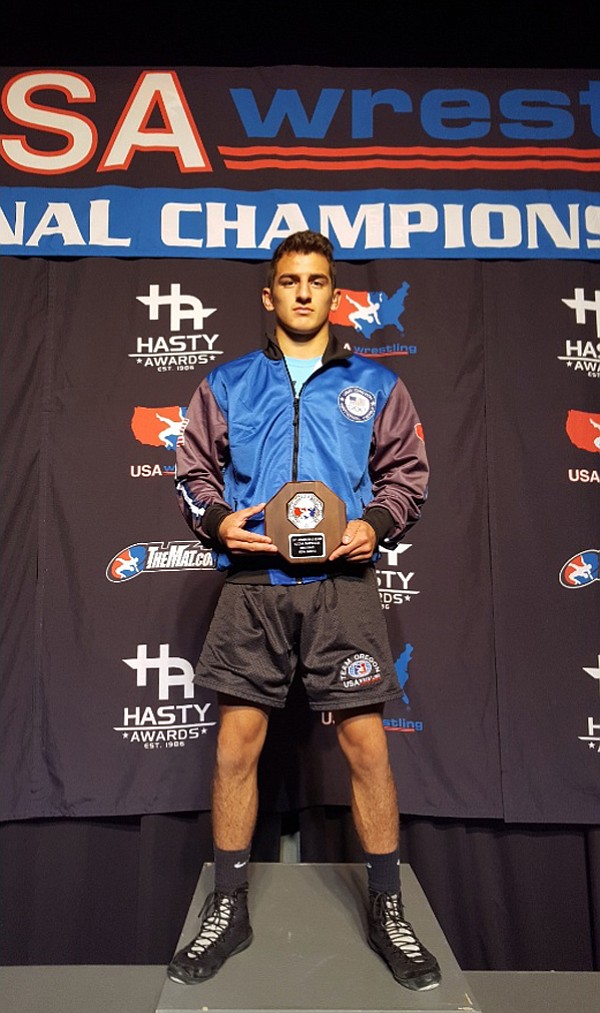 Hood River Valley High School student Jason Shaner made history for the Eagles last week when he became the first male HRVHS wrestler to ever make it the finals of the USA Wrestling Junior Greco-Roman Wrestling National Championships in Fargo, N.D., according to HRV Head Wrestling Coach Trent Kroll.
Shaner, who will be a senior at HRVHS in the fall, is an accomplished wrestler, and this is not the first time he has earned All-American honors. However, this is his best finish in the national tournament, where, despite entering the event unseeded, he went six rounds, placing second in the 132-pound weight bracket, which featured 68 wrestlers from 28 different states. Kroll said the last Greco-Roman All-American was Lucas Mondragon, who took eighth in the Cadets group in 2007.
'It was a great tournament for Jason. He wrestled fearlessly. We are proud of his huge accomplishment.'
TRENT KROLL
The runner-up finish in the national tournament continues what has been a very productive 2017 for Shaner. During his varsity season as a junior, Shaner posted a record of 47-1, racking up the most single-season wins in the history of the HRV wrestling program, culminating with a first-place finish in the 126-pound bracket at the 5A state championships in late February. Shaner followed that up with another first-place finish at the Oregon Beach Wrestling State Championships last month.
"It was a great tournament for Jason," Kroll said. "He wrestled fearlessly. We are proud of his huge accomplishment."
"It was pretty cool getting that far," Shaner said. "Honestly, my whole mindset was to be tough and hit first and it paid off for the most part."
Shaner started out with a decisive 12-1 major-decision victory over Diego Nava, then moved onto the next round to take another double-digit major-decision victory, this time over Joe Bianchini, of Illinois (18-8). He had much tougher competition in the third round, facing No. 2 seed Jacob Greenwood, of Colorado, but Shaner still came away with a 7-2 victory.
Advancing to the quarterfinals, Shaner had his most lopsided match of the tournament shutting out Martin Wilkie, of Montana, 12-0. In the semifinals, Shaner faced difficult competition again with returning All-American Jack Karstetter, of Oklahoma, whom Shaner dispatched in a 6-1 decision.
In the finals, Shaner squared off with the formidable Dalton Young of Washington's Lakeside High School (located north of Spokane, Wash.), who finished his high school career with four state championships, a 170-0 record, and is bound for Stanford University in the fall. Shaner kept it close, but ultimately lost to Young in a 3-1 decision.
Shaner said he was pleased with his ability to make the finals for HRV, but doesn't want to be the only one from his school to get there.
"I'm happy that I'm the first finalist, but I hope some of my teammates can get a chance to get that experience too," he said.