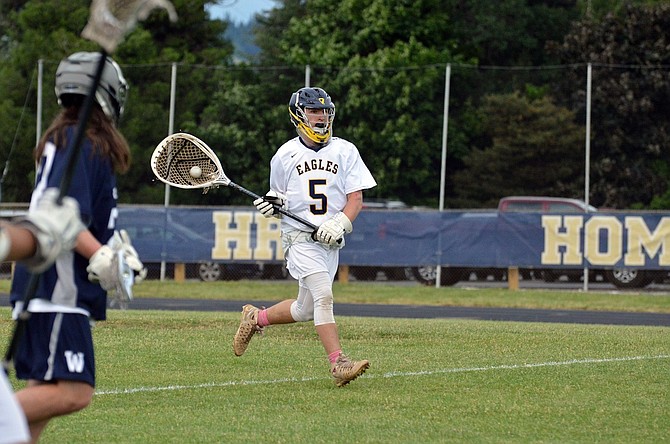 Surprising few who saw their last meeting with Wilsonville, the No. 1 HRV boys lacrosse team (8-8) rolled the No. 13 Wildcats (5-12) 15-2 Tuesday evening in the Cascade Cup semifinal game played in Hood River. That propelled the Eagles to the Cascade Cup finals against No. 7 Westview (6-15) Friday at 7 p.m. in Hood River (results unavailable at press time).
It's the second time in three years HRV has advanced to the final game, winning the Cup in 2015. It was also the second time the Eagles went up by double digits on the Wildcats this season. Westview, a 6A team, advanced to the final by defeating No. 3 Marist 10-8 Tuesday night.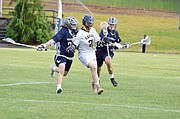 "It feels great to be back in the Cascade Cup, there's no doubt about it. This is a fun experience for these kids to go out on top with our 11 seniors. It's an awesome feeling to be back there and win another championship — well, that's what we're going for," said HRV Head Coach Matt Luchsinger Tuesday night. "To have it in Hood River is even better. The fact that we don't have to travel and our seniors can walk away this year from playing and winning a championship game on their home field, there's no better way to go out."
At first, it looked like Wilsonville might not be easily pushed over. The Wildcats dominated possession the first quarter and only were down 2-0 after 12 minutes. That did not sit well with Luchsinger, who chewed his players out after the quarter ended, telling them, in so many words, "to pressure out on defense more" and cut into the Wildcats' ability to control the ball.
"I think the guys walked out a little too cocky, a little too confident, and just had it in their head, you know, so it was a little bit of that…" Luchsinger explained. "I think they came out a little too confident because this was the second time we played them; the first time we won 20-9, so I think they were overlooking them a little bit in the beginning, which was not a good call, because they were holding the ball and possessing well since they only had 14 players."
Luchsinger's players got the message and ratcheted up their intensity, moving up and down the field at will, and scoring five unanswered goals to roll into the half with a commanding 7-0 lead. They scored another a couple minutes into the third to go up 8-0 before the Wildcats finally responded midway through the same quarter to spoil HRV goalie Jhett Chrisman's shutout, who had five saves on the night, and the two goals he let tied the team's fewest number of goals allowed in a single game this season.
"Jhett played great, he took a bunch of shots today and made a bunch of saves. Two goals? You can't say much more than that — that's a hell of a game," Luchsinger noted.
Though he doesn't play on offense, Wyatt Mansfield was the highlight of the evening, leading the team with a hat trick and an assist. Mansfield, a senior defender who isn't necessarily relied on for goals, had two goals in the waning minutes of the game, and the bench clamored for him to score a hat trick. He was happy to oblige as his teammates roared their approval.
"You don't see poles scoring that much, so it's a lot of fun when a pole can run it from one end to the other and put it in the back of the net," Luchsinger said, referring to the long sticks that defenseman carry. "So, it's pretty exciting to see poles score. They don't get too many points, and the fact that he put up an assist and three goals is a hell of a performance.
"He wants to score," Luchsinger continued. "He's got a great shot, he practices his shot a lot and he knows he can score and he wants to, so if they're going to let him take it to the goal, he'll run it in. He's a guy who's worked really hard on his shot and he loves to run down the field."
Mansfield was matched in points by Cody Wheat (three goals, assist) and Jackson Lebsack (two goals, two assists). Also on the score sheet were Henry Barton (two goals, assist), Mason Collins (two goals, assist), Levi Glass (two assists) Christian Zack (goal), Bruce Ostler (goal), and Jack McCaffrey (goal). Alex McAlpine led the team with nine ground balls, most of which came from post-faceoff scrambles.