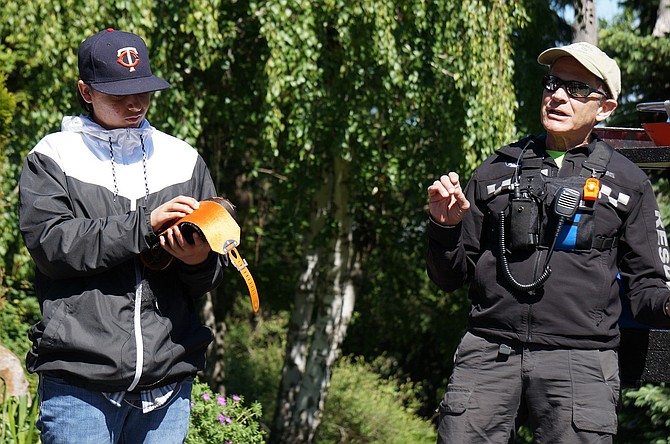 The Crag Rats, Hood River County volunteer search and rescue team, and students from Hood River Valley High School spent the day together to talk about wilderness safety, rescue equipment, and general guidelines for enjoying the backcountry.
The students participate in a reading enrichment program taught by Carol Birdsell at the high school and recently finished the survival story "Touching Spirit Bear." During classroom book discussions, it became evident that the students had limited exposure to the surrounding wilderness and safety guidelines. Who better to teach them then our very own experts: the "Rats."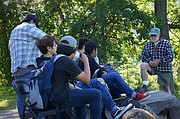 With the help of long time volunteers Roger Nelson, Dennis Klein, Paul Crowley and Tom Rousseau, the students learned many tips on hiking and enjoying the trails safely.
The take home message for students? If you are lost or hurt, call 911, then stay put. Use your phone to communicate solely, other uses will burn up valuable battery time. And always bring more food, water, and layers of clothes than you think you may need for your adventure.

The day also include rescue stories and talks about the logistics of being part of the Crag Rat search and rescue team. When asked by student Alex Rodriguez, "What is your favorite part about being a Crag Rat?" the resounding response was "The teamwork it take during every rescue." And we do have an amazing volunteer search and rescue team here in the Hood River area.
Not only do they brave treacherous terrain in all kinds of weather, any time of the day or night, to help those in need or in danger, they are fantastic educators as well!
Hats off to our Crag Rats, thank you, every one of you, for all you do.
•
Carol Birdsell is a teacher at Hood River Middle School.