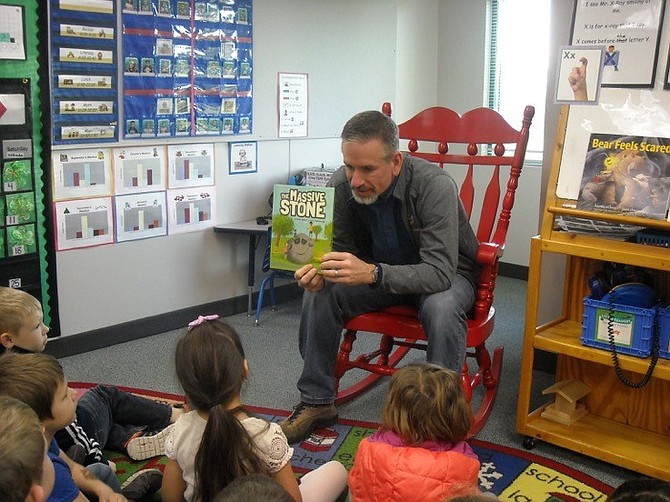 Hood River Valley High School English teacher and volleyball coach Scott Walker recently added another label to his name: Published author.
Walker's children's book, titled "The Massive Stone," was released on Oct. 4, 2016, through Mascot Books. He describes it as "a labor of love" that spanned 30 years from inception to publication. The picture book is about a large stone, located in a park, and its desire to move and play. A little boy with an active imagination gives the stone the one thing it's looking for — friendship.
"I wrote the story during one sitting about 31 years ago — one of the times when the words just flowed right out of me," he said. "It was a little short for a picture book, so I wrote another few stanzas a couple of years ago, and then refined the story with an editor at Mascot Books."
Mascot also helped him connect with illustrator Katie Mazeika.
"One of the great moments of my life was opening that first box of brand new books and realizing that my story was solid and real," he said. "It was almost as great as looking at my book on Amazon for the first time. My wife laughed a little because I got so emotional."
Walker has had two readings of the book at Westside Elementary, where he shared his story with his son's kindergarten class. He's planning another reading at Little Learners, his four-year-old's preschool located at HRVHS.
Walker has lived in Hood River with his family — wife Heather, daughters Avery and Lincoln, 11 and 4, respectively, and son Kallin, 6 — for the past 11 years. He has taught multiple English, PE, health and social studies classes, is currently coaching girls volleyball, and has previously coached both boys and girls basketball.
"We all have really enjoyed the area here, for the wonderful outdoor opportunities, being close to grandmas and grandpas, and also the really great relationships we've made," Walker said. "It really is one of the most beautiful places I've ever been to."
Limited copies of "The Massive Stone" are available at Waucoma Bookstore (signed), and online at Mascot Books, Amazon, Barnes and Noble and Books-A-Million.