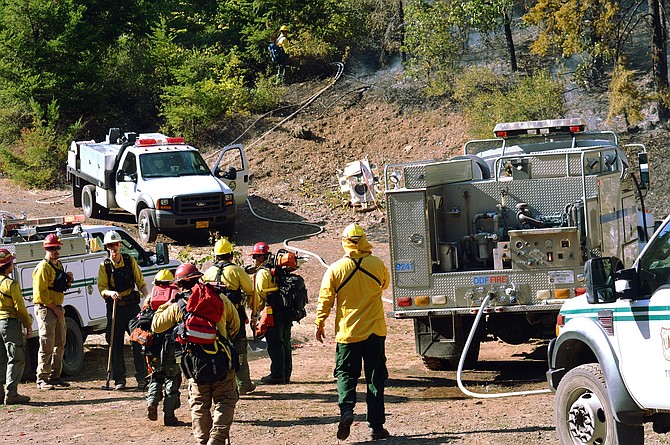 Fire season has rekindled at its ordinary threat level, despite a remarkably snowy winter.
The Oregon Department of Forestry's Central Oregon Division — which includes Hood River and Wasco counties — declared Wednesday, June 7 as the start of the 2017 fire season. A burn ban on all non-agriculture burns takes effect July 1.
The Hood River Valley has been rated at a "Low-Moderate" fire danger level. Officials could upgrade or downgrade the classification later this year.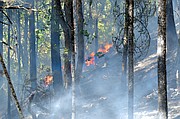 Solid winter snowpack delayed the fire season's onset compared to recent years, the forestry department said in a report, but meager spring rains and warm temperatures have dried out wildland fuels, such as grass and foliage.
Mike McCafferty, Parkdale Fire Department chief, said the fire season appears to be about as dangerous as past years.
Fuels have grown tall due to moisture through the winter, which could pose an issue — a burn source for fires — when forecasted hot and windy weather arrives, he said.
There have been fewer fires statewide compared to the 10-year average for this time of year, with the exception of one southern Oregon district, Klamath-Lake, according to ODF.
No major wildland fires have struck the valley yet.
84 fires in Oregon — so far
As of June 5, 84 fires had been reported this year on ODF-protected lands in Oregon. The blazes spanned about 100 acres. Most of the fires — at least 70 — were caused by people. Three-fifths of the fires occurred in ODF's southern and central Oregon districts.
Last year, human caused fires accounted for 75 percent of fires in the district.
"In a large district like Central Oregon, the level of fire danger can vary from place to place depending on a lot of factors, such as elevation, northern or southern aspect and type of fuel," said Mike Shaw, ODF district forester.
"It's been pretty mild," McCafferty said of fire responses to which the department has been dispatched. But with boosts in summer recreation and visitors, "We could foresee the call volume rise and of course … more folks out puts a little more danger into the fire (risk)."
Lack of firefighters won't be an issue, however. McCafferty said, based on a recent meeting uniting the county fire departments, "We're in pretty good shape for staffing across the board." Parkdale's department, for instance, is running at full staff.
Fire season restrictions include season-long bans on several notoriously fire-prone activities: debris burning, and use of exploding targets and tracer ammunition. During the season, industrial operators must follow fire season regulations and keep fire tools and equipment on hand at forestland sites where they work.
McCafferty recommends residents trim grass and plants to create a defensive perimeter around houses, keep grass green, and do proactive cleanup of dead and drying vegetation.
For the latest information on restrictions, call local fire departments or visit www.oregon.gov/ODF/Fire/Pages/Restrictions.aspx.