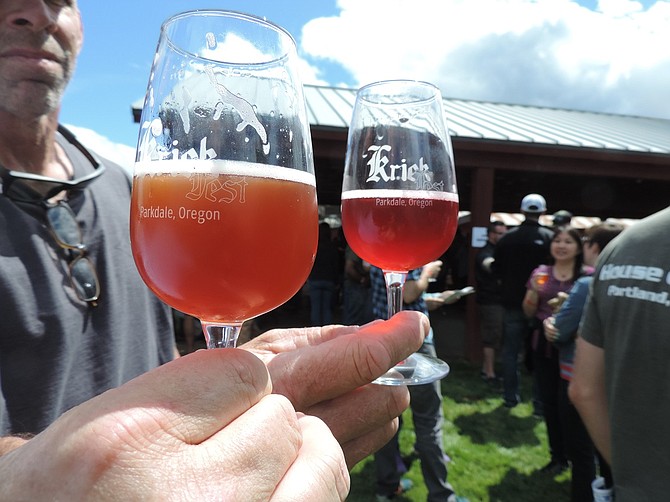 Back before I drank beer, LONG before (and I only took it up at age 24) I remember a Seattle Times report that the famed Ivar's Acre of Clams restaurant got in trouble for putting lesser beer into Heidelberg empties and selling it to go with the bivalves. That story of switcheroos lodged in my 10-year-old brain and I think of it now when considering the richness of beers being produced in the Northwest, and how funny it is that Heidelberg was once considered a premium beer. (Still available but, tellingly, only in 12-packs.) We have such fine quality to drink now, so I mention it for two reasons: first, I believe that most Northwesterners consume ales for the flavor and quality, not as an agent of intoxication.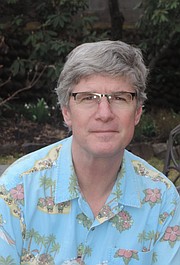 Also, I don't want to switch out my content for someone else's but the Northwest alcohol subculture that Hood River is a part of took an interesting bell-ringing from Willamette Week this week, in an article headlined "Hood River is (Almost) New Orleans." It was written by a self-admitted dabbler named Pete Cottell and edited by the reliably insightful WW beer maven Martin Cizmar, who was cordial and receptive when I called him up to critique the article for what I termed its "generally sour" tone.
These days, sour is good in beer, but not so much in writing.
The article had its merits, as it both celebrates and skewers the fact that Hood River contains an inordinately large number of breweries and other drinking establishments and points out, "Hood River is one of a small handful of cities in the U.S. with no law prohibiting open containers.
Those who are likely to get the bright idea to come here are optimally the same people who take it as a reminder to visit for the purpose of sampling high quality wares and not getting smashed in a Gorge version of Bourbon Street, which Hood River is not.
The set-up to Cottell's story is this: "The OLCC is still involved, which means caveats do apply, but the end result is the entire town functioning as your very own bar, with each stop serving as a filling station." Cottell then says, "it's not quite New Orleans," which makes you wonder why they used the clever-clever headline. The writer then recounts "though legend has it a now-defunct shop once sold Mason jars of to-go beer from a window—a bartender and a taphouse nearby adopted the stern attitude of a parental unit while explaining how incredibly illegal this practice was."
It is one of two sour notes in the form of inaccuracies, the other being the reference to 64 Taphouse & Growler Station "which, despite the name, has 30 taps to fill your growler." The 64, of course, refers to the volume of a standard growler, and the writer might have looked at the sign and realized that fact the sign in the business gives it as 64 Oz. Taproom and Growler Station. (Oz as in ounces, not Dorothy and the Witch territory; no yellow-beer road here.) Social media and the business website generally leave out the Oz., however.
Cizmar insists that the official name is 64 Taphouse but owners Rod Steward and Lorraine Lyon confirm it is 64 Oz.
The other error is to suggest that the whole Mason jars to go thing was some back alley bohunk beer action: beer guy Ed Wilder of the "defunct" and beloved da Brewshop served his beer extensively in Mason jars and it is true that, for a time, he would take your money through the front window and hand you the beer, asking you to stand and consume it at the customized counter overlooking the sidewalk. I did that once, and the next time I asked Ed for a beer this way he told me he'd been apprised of OLCC regulations and asked that I come in and purchase the beer inside.
Ed's bonhomie, including the jovial sailing of beer coasters into friends' car windows who had pulled up at the Cascade Avenue stop sign, were part of the quirky, robust beer-centric corner of the world Ed memorably forged. (It's a model retained in spirit at River Daze Café, which took over that space and keeps it a casual corner to find high quality ales from the Northwest and beyond. Owner Cary Bray confirmed that that OLCC permit for the new beer bar is solely in River Daze's name.)
The WW report, we hope, will not bring irresponsible drinkers descending on a city-wide bar.
As to the article's merits: while it strikes a fairly flippant "look what we found!" tone, our city and business leaders should recognize the valid concerns of some merchants who report gross – literally – misbehavior including littering and vomit on the sidewalks, particularly on the weekend. As was noted at a recent City Council meeting, the police are aware of the handful of establishments that seem to be the source of over-serving and other examples of insufficient monitoring that lead to fights and other messy problems.
OLCC remains a resource for training, and all businesses with alcohol licenses are encouraged to take advantage of that service and to use "Hood Orleans" depictions as a reminder to uphold their part of the bargain that is an OLCC permit.
A few nitpicks, some bigger than others, with Cottell's report:
• He describes "flocks of adventure dads with 10 Barrel hats and Toyota FJ Cruisers filled with toddlers descend on the town …" Not sure what the nomenclature is there ala gaggle of geese or murder of crows– a "tun" of adventure dads, perhaps? Whatever group he is talking about, it's not a real issue here.
• On the subject of where you can or cannot crack open a container (it's after you leave an establishment), Cottell writes about a practice I have not personally witnessed: "you can't cross the property lines of any licensed booze vendor with an open container, so you'll have to stash your cup in a bush before you re-up."
Helpfully, he adds, "we used an aluminum growler to avoid any issues involving glass in parks." (Was that or stainless insulated, Pete? Dual-bail cap on it? What's best in this case?)
Who does this? I've spent a lot of time at brew pubs around this town and elsewhere, and can't say I have seen it. Does the writer go from town to town in search of convenient pockets in the laurel bush to hide his container before "the next re-up?"
Good intentions aside, this just encourages irresponsible behavior.
Ultimately, the knock on this friendly bit of carpetbagging journalism is that it encourages beer-bro tourism: consumption, not enjoyment, being the goal.
As one brewing industry veteran said (okay, it's my brother Joel, 20-year owner of Corvallis Brewing Supply) pointed out, the matter of stashing your cup in the shrubbery is just an extension of hide-it-from the parents and get tanked teenage-secret-drinking.
It's ironic that Willamette Week, in its annual Beer Guide, gives a "Best Brewpub Experience" honor, this year to pFriem Family Brewing, yet allows ink to a piece that actively encourages this sort of juvenile growler-and-cup scavenger hunt.
To gentle readers everywhere: find a place you like to enjoy a beer, go inside and if you can find a seat, sit down, and enjoy that beer in that place. And take a pass on the Heidelberg.
Washington Beer Awards
Everybody's Brewing in White Salmon and Backwoods Brewing in Carson took home awards at the 2017 Washington Beer Awards at the Washington Brewers Festival last weekend at Marymoor Park in Redmond.
Everybody's Brewing took Silver among American Style IPAs for its Cryo Chronic; the gold went to White Bluffs Brewing for its Nectar of the Gods (N.O.G.); Elysian Brewing Company of Seattle got the bronze for Dayglow.
In the German Sour Beer category, the brewery's Good Ad-Weisse, (good advice) Berlinerweisse, gained the bronze.The gold went to Hi-Fi Brewing Co. forOn The Metro; the Silver to Kulshan Brewing Co. for its Gose
American-Style Pale Ale category, Backwoods took the Silver for its Mosaic Pale. The Gold went to Elliott Bay Brewing Co, Burien, for Curiosity, and the bronze to Fremont Brewing for Universale.
(My favorite beer name among the Washington awards, from my personal favorite beer type, Scottish Ales: Kilty MacSporran from Postdoc Brewing in Redmond.)
KriekFest Saturday at Solera
The June 14 report on Kriekfest, the second annual celebration of cherry-based sour ales, gave the wrong Parkdale location for the event: it starts at noon on June 24 at Solera Brewery. KriekFest is presented by Brian Yeager and Solera Brewery and is an all-ages event; tasting is $25 and includes a souvenir goblet (kriekfest.com).
Beauty from the Beast
If you can still get it, go to Volcanic for Bes Tart Wheat, from Little Beast Brewing in Beaverton: this tasty farmhouse-style mild sour (7.0 ABV) is a complex lemony summer quencher, and it comes courtesy of Charles Porter, one of the founders of Logsdon Farmhouse Ales. Porter left Logsdon two years ago or so to embark on his own project, and the Bes Tart is more than a good start.
The term Little Beast is from the French "betes petits," for the bugs, or microflora, that make wild yeast ales so delightfully possible.
"Bes" and Porter's American Brett Ale "Fera" have been issued in caged and corked 750ml bottles, which will be followed by 375ml rare releases and other seasonals that will be sold under a cellar club membership.
New releases:
• Chainsaws and Chairlifts, a 6.0 ABV lager at Solera Brewery in Parkdale. This is a smooth-drinking brew, mildly floral and deeply flavorful. "The name refers to the diversity of our regular customers," said brewer Jason Kahler. "Many work in the snow sport industry and others in forest and land management."
• Citra IPA, from Double Mountain, a single hop IPA currently on draft and in bottles at the Hood River taproom and the southeast Portland taproom, on Woodstock. Brewer Matt Coughlin pledges "a festival of stone fruit, dank ruby grapefruit and pineapple" in every pint. (6.2 ABV, 60 IBU)
• Peche Mode is back at Double Mountain. Source of the fruit is Parkdale's Mtn. View Orchards. Brewer Chris Byers said Peche Mode is "super juicy and has a nice Brett funk without being too sour. I would recommend this beer to anyone looking to venture into sours and fruit beer fans alike." (8.7 ABV, 8 BU)
•
A trend that must be stopped: Chalkboard errors.
In recent weeks, the chalkboards at local outlets have misspelled "Pfreim," "Belgin," "Hefeweisen," "Berlinner" and "Weise," to name just the most recent ones.
With more and more beer styles coming to more and more breweries comes the challenge of communicating to the consumer where the ales come from, the properties inherent in their types, and just what these ales taste and feel like. This can be complex at the least, confusing at worst, making it all the more important that breweries and brew pubs get right the most basic thing about the beers and breweries: spell the name right.
Of course, Pfriem, Belgian, Hefeweizen, Berliner, and Weisse are the respective correct spellings. (On the other hand, credit goes to the crew at Volcanic Bottle Shoppe, which juggles the largest number of exotic beer names, always spelling them right. That includes the delightful — in every way Pfungstädter Hell — umlaut and all — a delicious lager that is a perfect blend of biscuity and floral, and a lot of pfun to say.)
The increased reliance on chalkboards makes the practice both quaint (when compared to the digitalized readerboards a la 64 Oz. Taphouse) and familiar, and the irony of beer name misspellings is they are easily corrected.