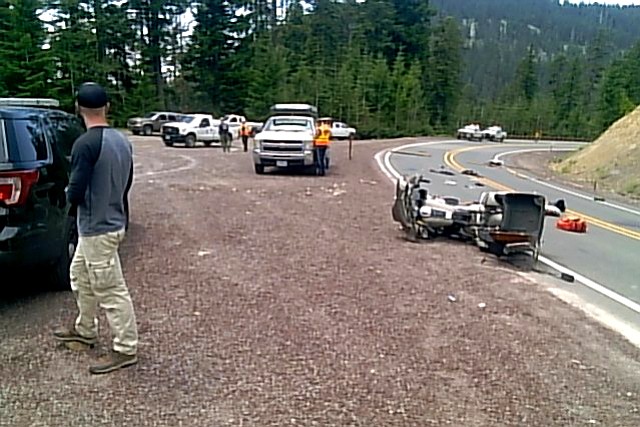 A Brookings man died following a motorcycle crash on Highway 35 near Mt. Hood Meadows Monday afternoon.
David Bruce Hall, 66, the driver, was unable to avoid spilled lumber in the roadway, which resulted in the crash at milepost 62, Oregon State Police reported Monday night.
Shortly before 1 p.m. June 26, according to scanner reports, medics were called to the White River area of the highway to a reported motorcycle crash. The stretch of highway lies east of the junction with U.S. 26 on Mount Hood.
OSP out of The Dalles and emergency personnel responded to the crash around 12:50 p.m.
Early police investigations showed a white 2006 Chevrolet pickup truck driven by Denise J. Hilkey, 46, from Parkdale, was carrying a load of lumber. OSP stated Hilkey is a U.S. Forest Service employee.
OSP Sgt. Yvette Shephard told the News the operator was on duty with the Forest Service, and the Chevrolet truck was a USFS vehicle.
The Chevrolet was heading southbound on Highway 35 and while traveling along a curve, lumber in the truck's lumber rack spilled onto the highway, partially blocking the north and southbound lanes.
Hall was driving a gold 2006 Harley Davidson motorcycle northbound on the highway. He attempted to avoid the lumber in the roadway, which resulted in the crash. At the time of the wreck, Hall was wearing protective equipment. Medics conducted lifesaving efforts, however, Hall succumbed to his injuries.
The patient died on scene, according to Shephard.
Police stated last night that next of kin have been notified and the roadway was temporarily closed.
OSP was assisted on scene by the Hood River County Sheriff's Office, Parkdale Fire Department, U.S. Forest Service Law Enforcement and Oregon Department of Transportation. Vehicle wreckage was scattered across both lanes of the roadway, OSP incident photos showed.
Shephard said an accident reconstruction team diagrammed the crash scene.
"This is an ongoing investigation and more information will be released as it becomes available," OSP staff said in a news release.
UPDATE: Due to a typo noticed after press deadline, the print version of this story will include an incorrect date in which Oregon State Police issued a news release about this incident. The release was issued Monday night.