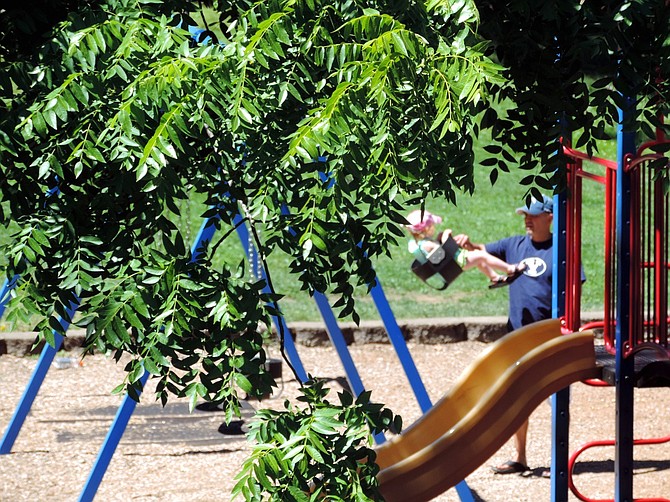 Now that summer is back in full swing, here is a brief guide to those open spaces, including school grounds, with "jungle gyms," as they once were called, and some standout features for each.
Mann Park (city park)
True Pocket Park; a half-block lawn with trees and picnic tables, and a few playground amenities, on West Eugene Street, near 22nd.
What's special: you might have this cozy park all to yourself, even on a sunny day.
May Street (elementary)
Lawn, play structure, asphalt; This one has it all: an extensive, modern playground, covered structure, a large asphalt play area complete with world map, and Schilling Field, great for tossing a ball or disk, or a game of soccer or softball.
What's special: it's close to neighborhood amenities in case you want a snack after a rousing time on the playground.
Wilson Park (city park)
One of the city's best kept secrets: a small playground and shaded playfield south of downtown.
What's special: At the east end of May Street, it is located near the top of the Second Street stairs, making it a fun destination from downtown.
Westside (elementary)
Elbow room: This large playground sits next to the popular Westside soccer fields, and has a large covered structure with basketball rims.
What's special: You can get to the playground via the Westside Trail, with a trailhead across Belmont to the north of the school. Look for crosswalks on the west and north sides of the school.
Culbertson Park (city park)
Heights Neighborhood Park. Find an all-ages playground, with cushy fall surface that's kind of fun to walk on, and outdoor basketball court. Take Pacific Avenue to Heights Avenue.
What's special: the only public park in one of Hood River's fastest-growing sections.
Jackson Park (city)
Crown Jewel: In summer this is one busy place, and while the playground is rather small, it's right next to the expansive bowl-shaped park lawn.
What's special: the terraced slope to the south of the playground is one of the Best Lawns In The Western Hemisphere to roll down.
Waterfront Park (city)
This windy hub on Portway along the Columbia features a climbing wall and other more kinetic play facilities, and some that make musical sounds.
What's special: connected to the two-mile Shoreline Trail, the park and swim beach are a major summer draw (note: watch the kids, no lifeguard on duty) as are the restaurants and adult beverage establishments right across the street.
Children's Park (city)
Hallmark park, at 9th and Eugene streets. When it closed for repairs in March-April, there was an outcry in town. As of late May, and through late summer, the classic wooden playground (slightly reduced) is back. (The adjoining lawn, covered play structure and other amenities never closed.)
What's special: the young cherry grove next to the lawn honors the Tsuruta, Japan Sister City program (celebrating its 40th anniversary this year.) There is that and what can only be described as "the Children's Park Vibe."
—Kirby Neumann-Rea