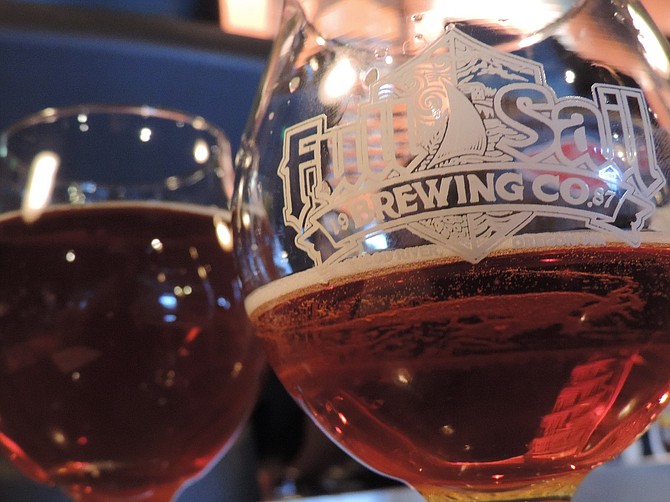 No way to take in all the Zwickelmania stops on Feb. 25, but I made it to two. It's the two-weekend (as of this year) celebration at breweries of the art of brewing, and drinking, fine ale. (The festival is named for the Zwickel device used by brewers to sample beer fermenting in kegs.)
Pfriem brewmaster Josh Pfriem gave a detailed tour of the rapidly-growing brewery on the Hood River waterfront, including the new barrel house at the west end of the Halyard building, where the tour culminated with paired tastings: peppercorn shortbread with chicken liver mousse and dark chocolate paired with Belgian Strong Dark Ale aged for a year in Courvoisier tanks, and goat cheese-honey ice cream with Flanders Red aged in pinot noir barrels.
"Savor and bounce the ale and the food pairing and take another sip and take in the experience. You'll feel a wonderful harmony happening in that moment," Pfriem told tour attendees. (He was right.)
Pfriem announced the development of ales available this spring using the brewery's year-old lambic-inspired base used with the existing line-up of beers (pFriem's totals more than 80) infused with whole cherries, raspberries, blueberries, or peaches. This year pFriem added Abrikus (apricot) to the lineup, with fruit from Mosier.
"It's bright and lovely, ready in about a month. We are so fortunate to live in a place with so much fruit; we love these styles of beers," Pfriem said.
He has also added smaller projects including Pruim with Italian plums; and a collaboration with Brooks Winery.
•
At Full Sail, I missed the tour, but Pub Manager Nancy Runions treated me to a glass of Harrington's Bourbon Barrel Aged Imperial Red Ale, the featured taste to visitors to the brewery on Zwickelmania. (More on the ale and the Harrington connection in later editions.)
The Red Ale (ABV 10.2 percent, 39 IBUs) is sweeter and more nuanced than you might expect; it has a near-absence of booziness, surprising for such a full flavored, 10-plus percent ale aged in bourbon barrels. This one is named for former University of Oregon and Detroit Lions quarterback Joey Harrington, who had a hand in the brewing and barreling of the beer.
Harrington recently opened Pearl Tavern in Portland.
Full Sail is donating a portion of proceeds to the Harrington Family Foundation, which raises scholarship money for Oregon youth. It is available on draft in limited quantities.
Aged for six months in Buffalo Trace barrels, this Imperial Red malty ale offers aromas of vanilla, spice, and toffee.