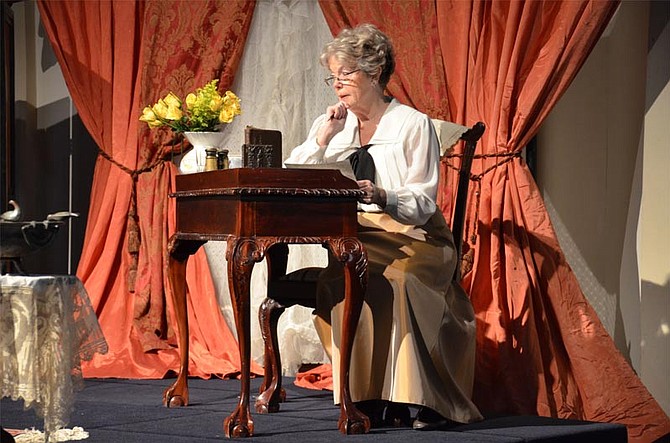 On Tuesday, March 6, Hood River Valley residents will have an opportunity to see "First Lady Lou," a two-act, one-woman play performed by Jane Fellows, at the Mt. Hood Town Hall.
Tickets are $25 and includes wine and dessert at intermission. A limited number remain. The evening is a fundraiser for the town hall.
Also On Stage
This weekend, Hood River Middle School and Hood River Valley High School drama departments have much in common. Both productions deal with teen issues and are set within the realm of group fantasy gaming.
"Game Night" — a modern fantasy musical opens Friday at HRMS. See page A9 for details.
"She Kills Monsters" — comedy at Hood River Valley High Schools Bowe Theater, opens Friday. See page B1, Kaleidoscope, for full story.
The play is about Lou Henry Hoover, the 31st First Lady of the U.S. She's a woman who has been described as being ahead of her time, and who just so happens to be Parkdale resident Leslie Hoover-Lauble's great grandmother.
"Lou would fit very well in our times," said Hoover-Lauble, who noted her great grandmother was the first female geology major at Stanford University in the 1890s. "During her time as first lady, she broke a lot of barriers."
Lou Henry and her accomplishments were overshadowed by the first lady who came after her, Hoover-Lauble said, but she "was very instrumental in making a lot of changes in our society for women, and very strong in the Girl Scout movement. My job as her descendant is to help people hear her story.
"I hope it will prompt other people to hear other woman's stories," she said.
Fellows will perform at the Mt. Hood Town Hall after shows in Portland; when she learned of the Hoover connections in Parkdale, she agreed to come to Parkdale. Fellows has previously played Emily Dickenson in another award-winning play.
For more information, call the town hall at 541-352-1078 or email Gray at amy@mthoodtownhall.org or amylovespearl@gmail.com.