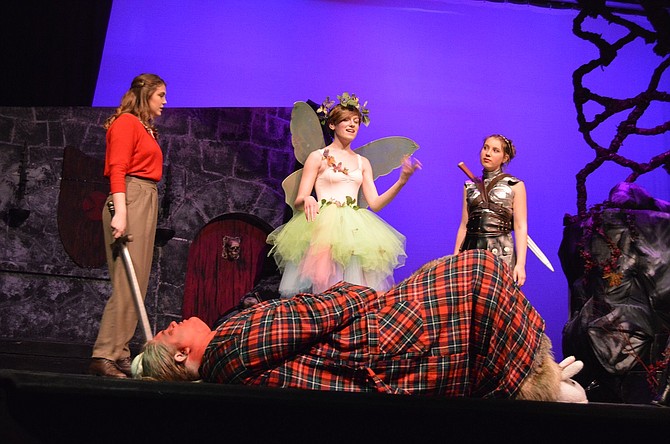 Hood River Valley High School theater teacher Rachel Harry was looking for a unique play that explored teen issues, and that's exactly what she found with "She Kills Monsters," written by Qui Nguyen.
This is a play that "pushes the envelope a bit, but nothing that should be considered controversial anymore," said Harry. It's the first of two to be performed this winter. The second, "Almost, Maine," debuts in April.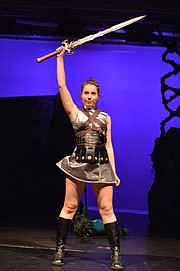 "She Kills Monsters" is told from Agnes Evan's perspective (played by Savannah Rogan), as she delves into the world of Dungeons and Dragons — in 1995 Athens, Ohio — after finding a D&D module written by younger sister Tilly (Ella VanCott), who was killed in a car crash a couple of years earlier. Agnes hopes to get to know her sister through the game, and what she discovers isn't entirely comforting.
Because Tilly not only battled fantasy monsters; she had plenty in real life while attending high school.
"My students were incredibly excited to be involved — many love the fantasy aspect of the play," Harry said. "I was intrigued by the story concept as well. I love the magic of the theater, the ability to display several dimensions at one time and the theatricality that would be involved in the portrayal. I love the fact the play has rousing movement pieces — all the great battles — plenty of humor and wonderful poignant moments."
The cast slips in and out of real world and D&D personas, and it's interesting to try to pin down the similarities between the two halves of each character.
"I like the fact that the group of warriors are mostly female; most current stories historically were male dominated with just a few females. It flips the model, which I feel is important, certainly in 2017," she said. It's also female and LGBTQ empowering.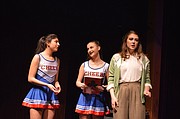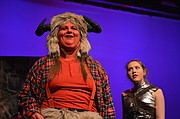 The battle and dance scenes are especially impressive with their mix of costumes and choreography.
"The fight scenes were huge projects in themselves, creating the choreography and making sure there was a story in the fight as well, communicating with the composer about what we envisioned," Harry said. "In looking at other productions, we found our movement pieces were significantly longer. Other schools' 'Dance Off' (scenes) between the cheerleaders and the warriors were generally running 30-45 seconds. Our piece is 3.5 minutes long and includes all the monsters coming out and joining in with the Cheerleader Succubi. Go big or go home."
Warriors Kaliope (Lucy Fine) and Lilith (Emma Dexter), "Evil Twins" Gabbi and Tina (Ami Santillan and Aleeyah Enriquez), the demon Orcus (Aiden Tappert), Chuck the D&D master (Thomas Lovejoy), and Agnes' boyfriend Miles (Jasper Krehbiel) are all played with aplomb by the veteran cast — and it's clear they're having a blast bringing their characters to life.
The theater department got plenty of help from both school and outside sources. Carol Birdsell's eighth period art class helped construct the Bug Bears and Kobolds costumes, while Harry's intro to theater tech class built much of the set — with help from teacher Jeff Lorenzen — and hung lights, created sound effects, worked on costumes and developed props. Costumes were additionally designed and built by Kathy Peldyak, Trish Rogan, Jayce Tappert and Theresa North.
Jared Booth, of The Dalles, designed and built Tiamat, the visually stunning five-headed dragon that appears at the end of the play, donating "hours and hours of his expertise in crafting the dragon heads, designing and building the mechanisms that trigger the eyes and articulate the mouth," Harry said.
Duncan Krummel, of Ithaca, N.Y., composed all of the original music, and as for choreography, "Tay Camille Lynne came up from Austin to create some of the choreography, I created some, and the group added much of their own," she said.
There are many, many others who have helped over the years, and Harry said that without their wisdom and expertise, "I simply could not have done this … I love to collaborate and when others agree to work with my craziness, I am overwhelmed with appreciation."