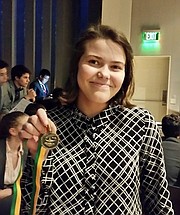 Junior Ruby Patterson made it to the final round of Open Prose and won second place in Open Oratory as Hood River Valley High School Speech and Debate team competed in the Robert D. Clark Invitational tournament at the University of Oregon Feb. 18-19.
Freshman Grace Skakel won third place in Junior Radio Commentary.
Seventeen students competed in 14 different events against 26 teams from four states and British Columbia.
Juniors Soren Rajani and Mason Leavitt ranked in the top 10 speakers in their debate events. Freshman Erick Lizama made it to the final round in Junior Impromptu.