The Columbia Gorge Orchestra Association presents "Beautiful: An Evening of Eclectic Music" with the Voci choir and Loop Ninja Tony Smiley. The performances will be March 10 at 7 p.m. and March 12 at 2 p.m. in the Wy'east Middle School Performing Arts Center. Tickets are $10 adults and $5 students and children, available at the door.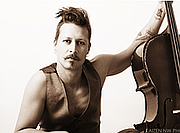 The Voci choir will be performing a program of striking a cappella music, all by American composers and all from the 20th century. Voci's set includes classics by Samuel Barber as well as very recently published music by young choral composer Jake Runestad.
Smiley, a Hood River Valley High School graduate, has been performing since 2000. His cosmic dance of electric melodies ranging from rock, hip hop, reggae, tribal fusion, '80s and everything in between, with a dash of Mongolian throat singing and beat-boxing, have earned him a following that repeatedly embarks on his musical journey.
The program will conclude with a unique, real-time collaboration between Smiley and the choir. More information and advance tickets are available at gorgeorchestra.org.