A familiar Hood River name, though new to politics, will appear on the May 16 Hood River County Special Districts election ballot.
Brian Carlstrom, former owner of Windance, has filed for Position 1 on the Hood River Port Commission, a post held by Fred Duckwall since 2003.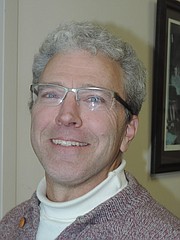 In other filings, incumbents David Russo, Corinda Hawkins-Elliott and Rich Truax have placed their names on the ballot for their Hood River County School Board positions. Truax was appointed last month to an unfinished term.
In the only Port of Cascade Locks filing so far, Commissioner Dean Bump, appointed last year to an unfinished term, has signed up to run.
Carlstrom started Windance in 1983 from the back of his car, moved into the existing building in 1984, and sold the business to Dave Nunn in 2008. Carlstrom and his wife, Lorraine, a Canadian citizen, moved to Canada until 2016, and are back home in their house next to Windance. They have two children: Logan, 24, and Kenzie, 20. Carlstrom now manages a variety of family-owned properties and rental units, though none in Hood River County.
"I care about Hood River and the direction it should be going in the future, and the waterfront is very near and dear to me," said Carlstrom, who was among a citizens' group in the 1990s and early 2000s that lobbied for the Port to allow no commercial developments north of Portway Avenue, a policy which led to formation of the Waterfront Park. "I would like to see Hood River continue in the path it's going. And I think I have a lot of experience in a lot of areas that make me a good candidate," Carlstrom said.
Carlstrom has never run for office before, but in 2003 he did stand in for candidate Lars Bergstrom at a campaign event, in Bergstrom's run against Duckwall.
"Lars couldn't make a debate and he recruited me to go in his stead," Carlstrom recalled. "Maybe we'll have redo."
Hood River County School District and both the Hood River and Cascade Locks port districts have three of five positions on the ballot for the May 16 special districts election, and there are multiple openings on the county-wide library, transportation and Parks and Recreation districts, as well as several fire, water, and sanitation districts and other special taxing districts with two more openings.
DEADLINE APPROACHES
The filing deadline started Feb. 4 and runs through March 16 at 5 p.m. at the Hood River County Elections Office, 601 State St., third floor.
If you have questions about how to file, phone elections at 541-386-1442. If you want to know more about responsibilities and other details of each position, call the specific agency.