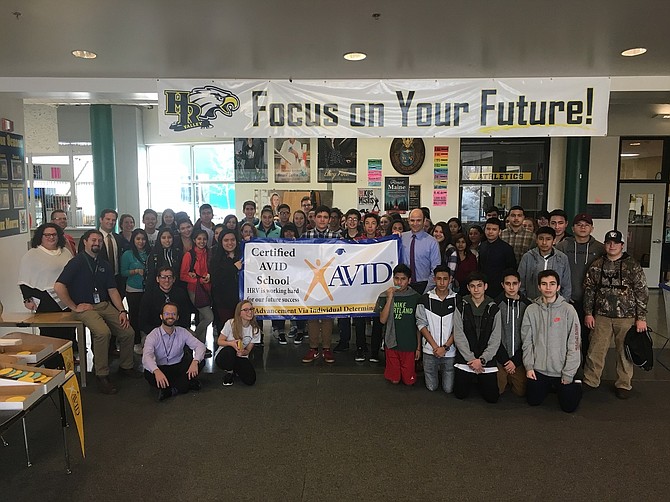 For the third year in a row, Hood River Valley High School has won a Nike School Innovations Award to support its AVID program.
AVID — Advancement Via Individual Determination — is an instruction-based elective designed to increase the number of students who enroll in four-year colleges, particularly those who are traditionally underrepresented in higher education. Teachers are trained to develop students' critical thinking, literacy and math skills across all content areas, according to the AVID website (www.avid.org).
The Nike School Innovation Fund is awarding 100 Oregon high schools a total of $1.5 million in grants with the goal of increasing graduation rates, closing the achievement gap and helping all students in Oregon prepare for future success, according to a press release from Nike.
HRV's share comes to $11,748, to be awarded for the 2017-2018 school year, and will be used to send five teachers each from HRVHS and Wy'east and Hood River middle schools — all campuses with AVID programs — to the AVID Institute in Denver for training in July.
HRV sends teachers not just connected with AVID, but in all departments, said Principal Rich Polkinghorn, and will have 20 trained staff at their site after this summer's training.
This is HRV's third year as an AVID school, with programs for freshman, sophomores and seniors. This year, it became AVID certified, meaning the program is integrated into all aspects of the school.
Students are invited to apply for enrollment in the elective class who have been identified as having collegiate and/or academic potential, but may not have a level of support at home to achieve success — such as a parent with a college degree.
"We give these students focused support and the skills needed to tackle more challenging academic courses and realize success in these classes, giving momentum for graduation from school," said Polkinghorn.
Students focus on three areas, though different grade levels have different needs: Organizational skills, study skills, and tutorials. Seniors focus more on college applications and scholarships. Students are encouraged to take the hardest classes HRV has to offer.
"They receive lots of guided support, depending on where they are in high school," Polkinghorn said.
AVID has required a financial commitment on the part of the school district — they must pay a yearly membership fee to run the program. The district received a state grant for early college readiness that included the AVID program for its first two years.
About 90 students are enrolled in the elective class, which is led by Haley Harkema (seniors) and Doug Beardsley (freshman and sophomores), who was named OnPoint Educator of the Year in 2016. Peer and volunteer academic tutors offer additional support.
The high school is always looking for academic tutors for the program. It's not so much about what a tutor knows as it is to simply have an interest in helping — tutors lead small groups and host discussions, but it's the students who do the work. Those interested should call Polkinghorn at 541-386-4500, and leave a message.