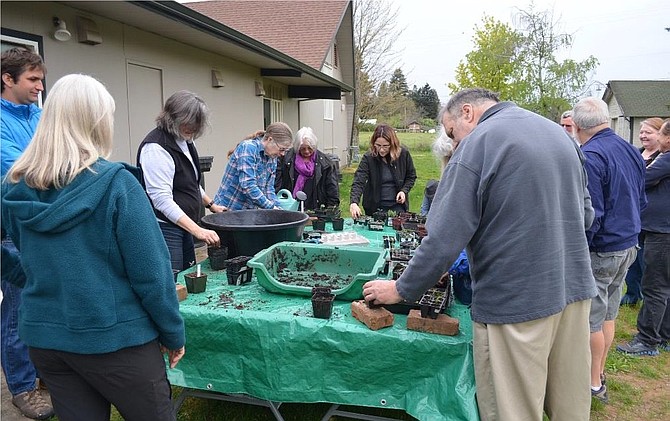 Fresh Start Culinary Arts Program and Central Gorge Master Gardener Association are bringing two types of food-related classes to town starting this month — one on the growing end, one on the preparing — offering community members a chance to learn new skills or brush up on techniques.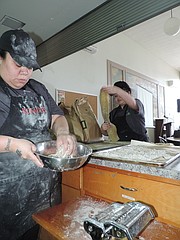 The chefs at Fresh Start are presenting cooking classes designed for home cooks beginning March 8. In the past, these classes have sold out quickly, so preregistration is probably a good idea. The classes offer three hours of hands-on instruction and a dinner prepared by participants in Riverside Community Church's commercial kitchen. Subjects range from a class on classic American pies and French tarts to a day-long Indian class that includes a trip to a Portland Indian market, lunch at an Indian restaurant, and an afternoon class and dinner back in Hood River.
The classes can be purchased individually and range in price from $40 to $55 per class ($125 for the Indian class), or cooks can purchase the entire series for $305, a $50 discount off the individual price.
"These classes sold out last spring and summer when we offered them, and we all had so much fun teaching and sharing our love of food and expertise with home cooks," said Chef Kathy Watson, chair of the culinary training program.
To purchase tickets, visit freshstartculinaryarts.org, and click on "News and Events." Click the orange button for purchasing tickets, as well as to see a detailed description of each class. For more information, please call Chef Rainbow Trosper at 541-399-6929.
The classes are:
• The ultimate pupu platter: Asian appetizers, March 8, $45
• Indian Part II: A day-long event to Portland, plus a class and dinner back in Hood River. Includes transportation, lunch, class and dinner, March 16, $125
• Dishes of Spain and Portugal, March 23, $55
• Chef Patterson Explains It All for You: Platting tips, knife skills and more, April 12, $50
• Truffles and Profiteroles, April 20, $40
• American Pie, May 18, $40
Central Gorge Master Gardener Association's Seed to Supper class is designed to help participants learn to grow their own food. The free six-week course is a comprehensive beginning vegetable gardening course designed for adults on a budget and will highlight practical low-cost gardening techniques for building, planting, maintaining and harvesting a successful vegetable garden — whether in an apartment building or with acreage.
"Home vegetable gardening continues to grow," reads the Master Gardener's press release. "It is a great way to stretch a limited meal budget during tough economic times. Many prefer the taste of produce straight from the garden and enjoy sharing their bounty."
Seed to Supper will start March 29 and run each Wednesday through May 3 at FISH Food Bank, 1130 Tucker Road, from 5:45-7:45 p.m. For more information on the Master Gardeners program, visit extension.oregonstate.edu/hoodriver/master-gardeners.
This is a program of Oregon Food Bank and Oregon State University Extension Service.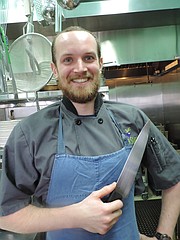 A brief menu of local food, garden notes
Culinary students to learn from garden
Fresh Start hopes to begin its second spring by growing its own herbs and vegetables.
The south courtyard of Riverside Church is a little-used lawn that the Fresh Start staff plans to turn into raised-bed garden. Kathy Watson of Fresh Start said grant funding is available for the project, but it still needs a partner to help plan and build it.
Once the irrigated raised beds are built, students will plant and tend to herbs and vegetables to use in their cooking.
'Seed Share' event March 18 at Rockford
The annual Columbia Gorge Seed Share for area gardeners will be March 18 from 2-5 p.m. at Rockford Grange, 4250 Barrett Drive (about a mile and a half west of the Windmaster corner).
Take home free seeds from the grange see bank and other local seed savers — and bring your own extra seeds.
Grow Organic will provide seed starting demonstrations, and Master Gardeners will offer a plant clinic.
At 3:30 p.m., Evan Gregoire from Portland Seedhouse will offer a workshop on seed saving.
Farmers' Market returns March 11
For those wanting Gorge-grown items now, visit the next Hood River Farmers' Market on Saturday, March 11 from 1-4 p.m. at Springhouse Cellars.
This is the first time the market has continued throughout the winter and features a wide variety of local food.
The market, operated by local non-profit Gorge Grown Food Network, also celebrates local artisans. The last market of the winter season will be Saturday, April 8.
Contact Market Manager Hannah Ladwig for more information at hannah@gorgegrown.com, or 541-490-6420.
Senior meals provide more than nutrition
Seniors in the Hood River area have a variety of senior meals sites open for lunch on a daily or weekly basis. Most program sites charge a small fee.
In addition to a nutritious meal, seniors are also able to talk with friends, play cards, listen to music or hear a guest speaker. Those needing transportation should call Columbia Area Transit at 541-386-4202.
Here is a listing of some of the senior meals programs offered in our area:
• Daily, Monday through Friday at the Hood River Valley Adult Center, 2010 Sterling Place, Hood River, noon-1 p.m. Open to the public and to all ages; suggested $5 donation goes towards the Meals on Wheels program. Fridays are music days.
• Monday and Wednesday at the Mosier Valley Senior Center (east on Old Hwy. 30, then turn at Kingdom Ave.) beginning at noon. Open to the public and to all ages; suggested $4 donation.
• Tuesdays at the Lyle Lions Community Center, located on the corner of Highway 14 and Fifth Street. They also offer a pancake breakfast the first Saturday of the month from 7-11 a.m.
• Thursdays at the Mt. Hood Town Hall beginning at 11:30 a.m. Senior meals are on a sliding scale; all others are $5.