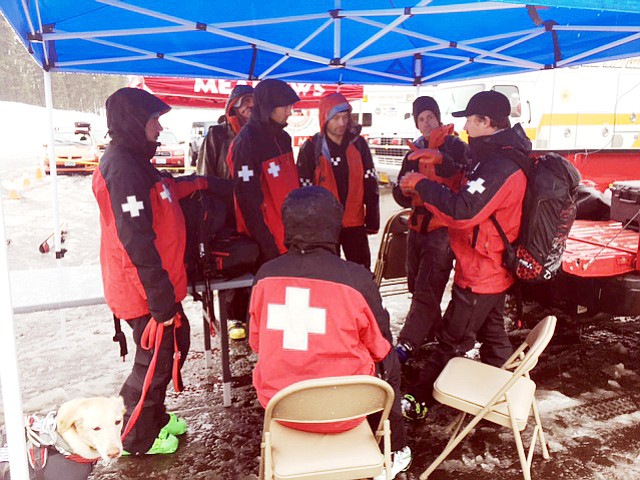 A skier from The Dalles has been missing at Mount Hood Meadows ski resort since Tuesday, amid avalanche warnings and near whiteout conditions.
Weather began to improve Friday morning, with relatively clear skies that spurred a redoubled search.
Steve Leavitt, 57, last scanned his ski pass on a chair lift at 11:20 a.m. Tuesday.
An experienced skier, Leavitt was traveling with his brother when the two separated because his brother wasn't feeling well, explained Sgt. Pete Hughes with the Hood River County Sheriff's Office.
Leavitt's family members reported him missing at about 7:30 p.m. March 7, prompting a search coordinated by the sheriff's office.
Search teams combed the lower Heather Canyon and Private Reserve areas of Meadows, on the north slope of Mount Hood. The area makes for challenging terrain — Heather and Private Reserve are classified as double black diamond, or advanced difficulty.
Access to Heather Canyon, Clark Canyon, and Private Reserve is through access gates only, a Meadows trail map explains. The areas are not patrolled on a regular basis and avalanche danger exists at all times. Meadows warns that skiers may be entering tightly wooded and cliffed terrain.
The search for Leavitt spanned through the week. It continued despite treacherous high winds and rain Tuesday night that blew for three hours followed by snow —about a foot — falling within a day.
Crews suspended the search until Wednesday morning, when they picked it up again. Rain continued to batter the mountain.
Christopher Van Tilburg, MD, a Crag Rat medic, said Thursday the weather was too wet to take clear photos of the search response outdoors.
On Friday morning, weather improved. Hughes said even though the avalanche danger remains, conditions are "much better today," and the search team anticipates it will finally be able to fly a plane to search for Leavitt.
The emergency response team was about 40-strong Friday morning. The pool of agencies included Hood River Crag Rats, Mt. Hood Meadows Ski Patrol, Mountain Wave Rescue, Portland Mountain Rescue, Deschutes County, Corvallis Mountain Rescue, Pacific Northwest Rescue, and 304th Air Force reserve division in Portland.
The sheriff's office put out a call for specialized rescuers with adverse terrain mobility, avalanche Level 1 certification, technical rope rescue capability and advanced medical care — the reserve division responded with specialized crews.
Rescue squads used an array of specialized equipment: snow machines, alpine mobility and cold weather survival gear, and rope equipment, according to a March 9 web post by Air Force Reserve Command.
Officials attempted to ping Leavitt's cell phone, but there was no cell service in the mountain canyon. Leavitt reportedly did not have a locator beacon.
Meadows closed off lift services for several days while the search pressed on.
"We stand by the family and continue to hold hope for the best outcome," Meadows said in a blog post.
Hughes hopes that crews will find Leavitt in the improved conditions.
"No matter what we want to get to him," Hughes said.