The Best Brewpub Experience award went to pFriem Family Brewing at the Feb. 28 Oregon Beer Awards, hosted by Willamette Week newspaper.
The competition recognizes the best beers in Oregon from the 2016 season, as selected by more than 85 judges in January, according to the event website. The Oregon Beer Awards ceremony was at Revolution Hall in Portland. A jury of 200 industry allies voted for categories including breweries, bars and festivals.
Logsdon Farmhouse Ales won gold medals for its Peche 'n Brett ale in the Fruit and Field category and for the Oak-Aged Bretta in the Brett-Mixed Culture category.
Bronze awards went to pFriem for its Fresh Hop Mosaic Pale, in the Fresh Hop category, and to Full Sail for its Cascade Pilsner in the Pilsner category.
Full Sail issues first cans
Full Sail Brewing Co. is now selling Session Lager in 12-ounce aluminum, the brewery's first foray into canned packaging.
"It's the same award-winning lager, but now in a can," said Full Sail Brewmaster Jim Kelter. "It feels as good in the hand as the iconic stubby, and it will go places where the bottle couldn't."

When Full Sail launched the Session brand 12 years ago, it quickly became the hottest new craft-beer brand on the market, which has since brought home 100 medals, including 40 golds, Full Sail stated in a press release. The beer (5.1 percent ABV, 18 IBUs), in bright red, is available in six-packs and 15-packs.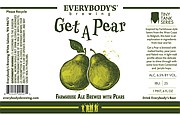 Everybody's 'Get A Pear' is out
Everybody's Brewing announced last week that its spring seasonal 22-ounce bottle will be "Get A Pear" — a farmhouse ale brewed with pear juice.
The Saison-inspired farmhouse ale comes in at 6.5 percent ABV, and 25 IBUs. Bottles of Get A Pear will be available at retailers throughout the Northwest until June 1. A limited amount of kegs will be available on draft as well.
The beer was fermented with a never before used Belgian Saison yeast strain from Imperial Organic Yeast, and used a grain bill that was made up of 25 percent flaked rice, stated Jess Caudill, co-head-brewer, in a press release.
"Jarrlo and Centennial hops are featured, and near the very end of fermentation, organic pear juice was added to the tanks," Caudill said.
Caudill said he was pleased with how his recipe turned out. "The yeast strain has some very unique flavors, and they really come through on this beer. You get some nice floral aromas, and definitely some vanilla and clove notes from the yeast. I've always wanted to brew a beer with pear juice, and it gives just enough flavor, but without much sweetness. It's a clean, Saison inspired farmhouse, with a pear twist. We are really happy with this one."
Remodels underway
What's going to happen at Logsdon Farmhouse Ales? Stay tuned as the Belgian-based brewery taproom in downtown remains shuttered pending a remodel.
Full Sail, meanwhile, is nearly finished with its pub remodel, which features a wider, more comfortable main bar, increased seating by way of smaller, more flexible tables, and new furniture made from reclaimed wood: booths along the window, built-in pub tables near the entry, and a new long counter between pub and dining room. Hostess reception and the gift area will be moved closer to the street entry. The pub is open again after a week's closure in early March, but new lighting and other work does remain to be seen in the dining room.
Alworth talks beer masters and their secrets
Author Jeff Alworth ("The Beer Bible") will present a talk on his new book "The Secrets of Master Brewers" on March 23, at 7 p.m., at Columbia Center for the Arts (21 and over). Beer tastings will be by Double Mountain Brewery, Solera Bewery, and pFriem Family Brewers. Tickets are available for $10 at the gallery, 215 Cascade Ave., or at columbiaarts.org.
According to the center website, "Alworth takes serious beer aficionados on a behind-the-scenes tour of 26 major European and North American breweries that create some of the world's most classic beers. In his book you learn how the Irish make stout, the secrets of traditional Czech pilsner, and what makes English cask ale unique by delving deep into the specific techniques, equipment, and geographical factors that shape these distinctive styles. Jeff will discuss the process of writing the book along with insider knowledge and 26 original recipes to guide experienced homebrewers in developing your own special versions of each style."