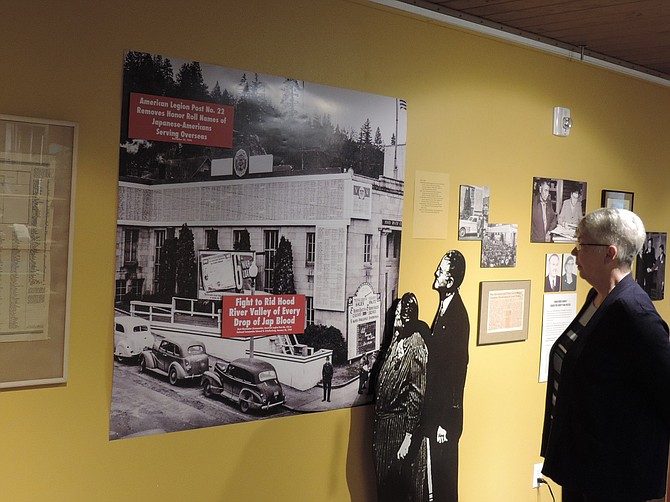 "WHEREAS the successful prosecution of war requires every possible protection against espionage and against sabotage…" read the opening words of President Franklin D. Roosevelt's Presidential Order 9066. Through that sweeping executive action Roosevelt gave the military control over the U.S. civilian population at the onset of World War II.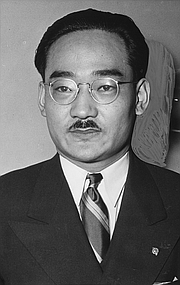 Roosevelt's chilling words confront the visitor to the exhibition "Minoru Yasui and Social Justice," showing at The History Museum of Hood River County through April 3. The museum, on Marina Drive next to Hood River Marina, is open 11 a.m. to 4 p.m. Monday through Saturday. Admission is $5 for adults.
Period photographs, documents, and newspaper headlines retell this narrative of prejudice, persecution, and incarceration.
"In light of the present political climate, it is a story worth retelling, and the timeline is expanded to draw parallels between the 1940s and today," said Museum Director Dr. Lynn Orr.
She noted that in the face of very real security concerns, American law in the 1940s was nonetheless twisted to accommodate pre-existing racial and economic prejudice. So began the trials — literally and figuratively — of U.S. residents of Japanese descent, whether immigrants or American-born citizens.
The exhibition showcases Min Yasui's Denver career as social activist fighting for minority rights, as well as the actions of Hood River citizen heroes who spoke up against blatant racial prejudice and lingering economic jealousies.
"Minoru Yasui and Social Justice" is the museum's contribution to the year-long commemoration of the life of this acclaimed Hood River native son. High profile legal challenges, social activism, and driving energy brought Min Yasui (1916-1986) to national attention as he championed the rights of all Americans regardless of their race or social status. In 2015, President Barack Obama awarded Min Yasui America's highest civilian honor: the President Medal of Freedom.
From the fruit farms of Oregon to the hallowed halls of the Supreme Court, Minoru Yasui devoted his life to fighting for basic human rights and the fair and equal treatment of every American.— Presidential Proclamation
During the ceremony, President Obama observed, "Today, Min's legacy has never been more important. It is a call to our national conscience." And the Proclamation continues, 'Minoru Yasui's example endures as a reminder of the power of one voice echoing for justice."
•
Linda Tamura (Professor Emerita of Education, Willamette University, Salem) who will be the final speaker of Gorge Owned's 2016-17 'Sense of Place' lecture series on March 15 at Columbia Center for the Arts, 7 p.m., tickets $10 at door)
Dr. Tamura, a native of Pine Grove, celebrates local residents who supported the Japanese returning to the Hood River Valley after World War II.
"A Sense of Honor: How Community Members Supported Japanese Americans during World War II." (More details below.)
Although Hood River garnered national notoriety for anti-Japanese American sentiments during World War II, it's noteworthy that a small number of local citizens stepped forward on behalf of their neighbors. In individual acts of support for Japanese Americans and — in some cases — as members of the League for Liberty and Justice, they demonstrated courage and a respect for civil rights.
CALENDAR OF EVENTS
Feb. 19 — Nation-wide observance of the Day of Remembrance; (75th anniversary of President Franklin Roosevelt's Executive Order 9066, signed in 1942, authorized the US military to designate exclusionary zones, which lead to the internment of 120,000 Japanese residents and American citizens of Japanese descent.)
March 15 — Dr. Linda Tamura's Gorge Owned's (GO!) Sense of Place lecture: "How Community Members Supported Japanese Americans during World War II' Columbia Center for the Arts, 7 p.m., doors open at 6:30 p.m., tickets $10.
Tamura will reflect on incidents of that time and place. Tamura is Professor Emerita, Willamette University, and author of two books about her hometown, "Nisei Soldiers Break Their Silence: Coming Home to Hood River" (University of Washington Press, 2013) and "Hood River Issei: An Oral History of Japanese Settlers in Oregon's Hood River Valley" (University of Illinois Press, 1994). She also co-curated "What If Heroes Were Not Welcome Home?" an exhibit, now traveling, through the Oregon Historical Society.
She will be joined by community members Sydney Babson Blaine, Jack Sheppard and Dorothy and Joan Laurance, who will recall stories of their families' acts during and leading up to the internment. They will reflect on the past while also recognizing lessons for the community's future.
March 28 — Observance of Oregon's Minoru Yasui Day
April 2 — Screening of documentary film Never Give Up! at the Columbia Center for the Arts, 2 p.m., doors open at 1:30 p.m. The free event is co-sponsored by The History Museum, Hood River County Library, and the Columbia Center for the Arts
April 3 — Last day to see exhibition Minoru Yasui and Social Justice
April 24 — Kerani Mitchell, Oregon Humanities Conversation Project: "Where Are You From? Exploring What Makes Us Oregonians," at The History Museum, 7 p.m., doors open at 6:30 p.m., free.