Join Waucoma Bookstore and local author and farmer Andrea Bemis for the book launch party for her cookbook, "Dishing Up the Dirt," on Sunday, March 19 from 3-5 p.m. at Springhouse Cellar, 13 Railroad St., Hood River.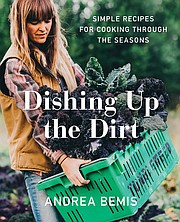 Bemis will be signing books, the Greenback Daredevils will be playing music, and there will be appetizers from the cookbook catered by Fresh Start.

Bemis, the creator of the farm-to-table blog "Dishing Up the Dirt" delivers seasonally driven cookbook, featuring more than 100 whole-foods recipes and dozens of color photographs. This is a free event and open to the public.

For Bemis, who owns and runs Tumbleweed Farm, a six-acre organic farm, with her husband in Parkdale, dinners are inspired by what is grown in the soil and picked by hand. In "Dishing Up the Dirt," she offers 100 authentic farm-to-table recipes, arranged by season. Bemis' recipes focus on using whole, locally-sourced foods — incorporating the philosophy of eating as close to the land as possible. While many recipes are naturally gluten-free, dairy-free, or vegetarian, many others include elemental ingredients like bread, cheese, eggs, meat, and sweeteners.
Short essays throughout the book present a glimpse of life on Tumbleweed Farm, offering details about where the food on our dinner tables comes from. With food photography as well as portraits of farm life, "Dishing Up the Dirt" allows anyone to be a seasonal foodie and an armchair farmer.