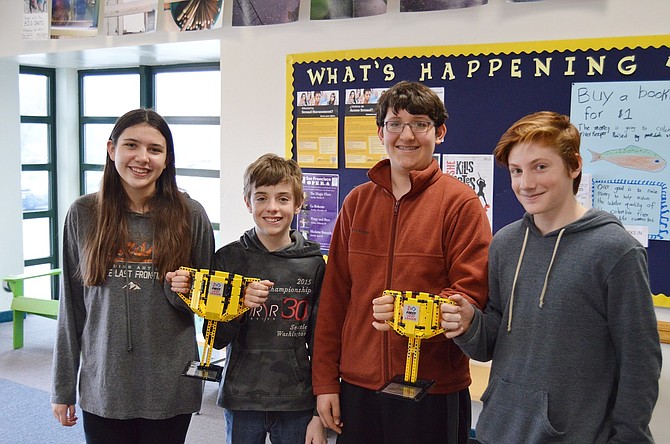 Wy'east Middle School eighth graders Cam Amer, Grace Guertin, Toby Fenner and Jason Fellow — The Pandroids — took the Championship trophy at last weekend's First Lego League (FLL) State robotics tournament at Glenco High School in Hillsboro, and are now headed to the World Competition.
Theirs is the first Gorge area team to ever make it to Worlds, this year held April 10-22 in Houston, Texas. They've been working on the 2016-2017 Animal Allies FLL challenge since the first day of school.
"We were shocked," said Guertin.
"The league is usually dominated by teams from Portland," added Fenner.
To put it in perspective, only two of 440 teams at the state tournament were invited to Worlds.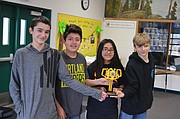 The Champion award is given to the team who best meets three criteria: robot design, core values and research project. The Pandroids additionally took home a first-place trophy for robot performance.
"These kids are extremely talented at using STEM in creative ways," said Patrick Getchis, Wy'east STEM teacher and after school robotics coordinator. "It has been fun to watch them learn, grow and work toward their potential over the last three years at Wy'east Middle School. I am excited to see what endeavors they pursue in the future."
Their project, "a bucket and elevator system that lifts salmon safely and effectively up and over dams," said Guertin, was their solution to helping spawning salmon make it upstream to breeding grounds — and past dams without fish ladders.
Amer, Guertin, Fenner and Fellow have been working together since sixth grade, said parent volunteer Guy Fenner — as long as there have been teams at Wy'east.
"This year, the kids returned from summer vacation with lots of enthusiasm for robotics and, more importantly, a lot more maturity," said Guy Fenner. "… They have continued to work as a really tight team. They have each developed a role on the team, and they understand how to work effectively with each other … the program has given them the opportunity to develop some life skills and a degree of confidence that many people don't obtain until much later in life. The tech-specific skills are just icing on the cake."
They need roughly $10,000 to attend Nationals — enough to cover airfare and hotels — and have set up both Facebook (www.facebook.com/hoodriverpandroids) and GoFundMe (bit.ly/pandroids) pages to help raise funds. Donations are tax deductible.
Getchis "started (the robotics program) from scratch three years ago, (and) he's brought in a lot of grant funding," said Guy Fenner, "and he's built it into a very strong program, with two teams at the state tournament this year. Without his leadership and inspiration, The Pandroids wouldn't exist."
Wy'east team Tech Rex also took home an award at the state tournament.
Aaron Davis, Adrianna Trejo, Anthony Robles and Nathan VanDooren won the Teamwork Award, given to the team that best exemplifies cooperative teamwork. Tech Rex was coached by Hood River Valley High School FTC students Margaret Totten and Melissa Nardone, who participate on HRV's Steelheads team.
"We had a great time this season," said Totten and Nardone in a joint statement. "Teamwork, leadership and communication were huge contributing factors to their success. We hope they pursue a career in STEM in the future and take the skills they learned in robotics."