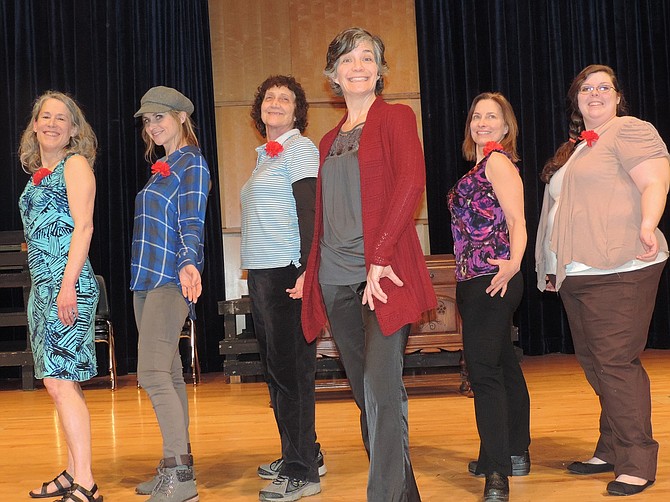 Sex may sell, but love redeems.
The play "Calendar Girls," opening Friday in Odell, employs humor and a restrained suggestiveness of sex, in the hilarious but heartfelt tale of friendship, courage, devotion, and emotional purpose.
Call it "nudity or nakedness" — the distinction is elegantly examined by writer Tim Firth — it is never actually seen.
'Satellite Dish for Sunshine'
Annie's husband John gives the women seeds of the sunflower: "During the course of the day, the head tracks the journey of the sun across the sky. A satellite dish for sunshine. Sow these seeds on the hill and you'll see … that wherever light is, no matter how weak, these flowers will find it."
Margaret Mead's quote, "Never doubt that a small group of thoughtful, committed citizens can change the world," is the cornerstone quote chosen by director Lynda Dallman in her notes on the production.
Staged at Wy'east Middle School, it features a cast of 10 women and three men, and is based on the true story of an act of confirmed community by a group of women in a small town in Yorkshire, England.
The Plays for Non-Profits production benefits Soroptimists International and Helping Hands Against Violence.
•
The women of the cast are led by the central figures Annie (Kathleen Morrow) and Chris (Barb Berry), who convince their friends, with the help of hilariously-revealed personal circumstance, to pose nude, albeit tastefully, for a fundraising calendar. They are members of a local women's group that endures boring weekly info talks, and assembles a boring annual benefit photo calendar about churches and bridges and such.
Chris comes up the with the idea of the women posing with artfully arranged cakes, flowers, teacups and other mundane objects emblemizing their staid rural existence. The recipient of their goal will be a new settee for the relatives' accommodations at a cancer center, specifically, a terribly uncomfortable settee Annie endures while there with her husband, John (Tom Butler), who is a patient.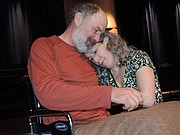 Words such as settee (sofa) are among a glossary of British equivalents for American terms, but what needs no translation is the fierce love Annie and Chris have for each other — severely tested by the success of the calendar — as well as the profound affection all of Annie's friends feel for the compassionate and gregarious John.
That love is what brings them past the trepidation of posing for the calendar — that and a shared sense of a once-in-a-lifetime opportunity to rebel, at least a bit.
Annie asks Celia, "Are you all right with this, Ceel? The ladies of the Royal Yorkshire Golf Club are not going to like this."
Celia: "Believe me, that's why I'm doing it!"
"Each of the women grows in confidence, and there are a couple who are overly confident and they come to realize there is more about becoming a team player, about having true motivations and not always being in control of things," Dallman said. "It's not just in women's group or a play cast but any group, you need to work with your team.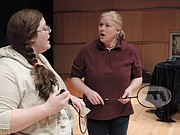 "How many times have you seen this when something takes off and it's never done by an individual?" Dallman said.
"Once you get a common cause going, to raise money, yes, a determined and well-focused group of women can truly change the world," Dallman said. "Of course, this is true of any people, regardless of their gender, but women tend to achieve it relationally. They believe in and practice the power of community. Somehow they intuitively know that by admitting their own individual vulnerabilities, they grow that much stronger when joined with like-minded women to take action. They know that strength is the basis of a community. This is the basic theme of 'Calendar Girls,' that people become stronger and more resilient when working together to make a difference in their community." (From Dallman's director's notes.)
In Firth's story, she noted, "Somehow a spark ignites, and while they are doing it for a man they all adore, it's an acknowledgement they all have frailties and get though it with the help of each other."
As one character says: "Right. Here we go. Let's get started with the sunflowers."
•
Cast members include Kat Blackmar as Ruth, Pennie Burns at Brenda, Tom Burns as Liam, Blaire Carroll as Celia, Steve Carroll as Lawrence the photographer, Kate Dougherty as Marie, Maren Euwer as Cora, Brenda Hering as Elaine, Carol Thayer as Lady Cravenshire, Bill Weiler as Rod, and Kathy Williams as Jessie.
TICKETS, TIMES (and tech details)
March 17, March 18, March 24, March 25, March 31 and April 1 — 7:30 p.m.
Sunday, March 26 — 1:30 p.m.
All performances are at the Wy'east Middle School Performing Arts Center in Odell.
Tickets are $20 for adults and $18 for seniors, students, and groups of 10 or more.
The show is suitable for ages 12 and over; the nudity is suggested only.
Proceeds benefit Soroptimist Live Your Dream Awards and Helping Hands Against Violence. Stage Managers are Adrian Chaton and Dell Charity; on lights and sound are Will Thayer-Daugherty and Harold McBain; music coordination is by Maren Euywer. Denise Rehse Watson took the calendar and promotional photos.
Dallman said, "This particular cast and crew are living proof that amazing things happen when people give their all for a cause. From learning Tai Chi movements, to singing three-part harmony, to practicing the Yorkshire dialect to collecting obscure props, they were willing to do whatever it took to make the production a success. To top it all off, they (literally!) and bravely posed for a calendar to benefit a local women's shelter and help support the Soroptimist Live Your Dream Awards. As a community, we can all be proud of their commitment to making the Gorge a better place to live — for some of the people who need our help the most."
Margaret Dallman, the director's mother-in-law and a native of north England, provided accent coaching.
"We focused on the cadence and the lyrical nature of the accent," Lynda Dallman said. "We worked on vowel sounds primarily; dropping the last 'g' and the first 'h,' but we didn't want to go too heavy on this; we call it 'Yorkshire light.'"
•
"Calendar Girls" continues what has been a busy last seven months for first Plays for Non-Profit.
In December, Morrow directed "Owen Mean's Children's Pageant," and in July and August Dallman directed "Much Ado About Nothing" followed immediately by "Oklahoma!" in August.
Folks who have served as actors and crew (or both) on the plays include Kat Blackmar, Harold McBain, Kathleen Morrow, William Thayer-Daugherty, Bill Weiler, Tom Burns, Kathy Williams, Adrian Chaton and Dell Charity.
The first Plays for Non-Profits was Thornton Wilder's "Our Town" in fall 2006, with Dallman directing.
"Over the past 10 years, it has been a joy to see talented and diverse Gorge-area actors, technicians, musicians, designers, and administrators join the community of Plays for Non-Profits theater. We share a love of plays, live performances, and opportunities to work together as a family to create something much larger than ourselves.
"We sincerely appreciate the generous support of businesses, sponsors, and audience members, like you, that are vital to our success. The PNP theater community looks forward to continuing our mission of creating magical theater experiences and sharing proceeds from our productions with local area nonprofits — hopefully, for another 10 years!"
'Smoke and Mirrors' employed instead of actual stage nudity
This play employs the idea of nudity as a device, but not for titillation. Director Lynda Dallman calls it "smoke and mirrors, implied nudity." Using tastefully-placed parts, the cast posed for 2017 calendars, with proceeds to the same charities, and 40 or so will be available on sale at the play, and at Enchanted Alpaca on Oak Street.
Props play a key role in suggesting nudity but ensuring the actors' privacy. Those props range from teacakes and rolls of yarn to a piano, and the photographic equipment — reflector screens and lighting — loaned by Denise Rehse Watson.
The equipment is the same Watson used for the calendar shoot in the Valentino Room at Columbia Gorge Hotel in November, early enough both to get the calendars out in late 2016, and to assist in character preparation. "We started early with not only what their character was, but how did they get into the spirit of this, the sense of fun of this," said Dallman. "These are typical middle aged English ladies, but we see what can happen when a group of women get energized."