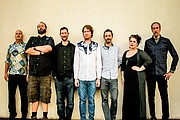 Pink Floyd tribute March 25
Here's your chance to experience Pink Floyd's "Wish You Were Here" album performed live in its entirety with Pigs on the Wing: A Tribute to Pink Floyd, Saturday, March 25 at the Bingen Theater in Bingen, Wash. The show is presented by KMSW 92.7 FM Classic rock. There are a very limited number of tickets available for this show; tickets are $20 at the door. The show is open to 21 and over only. Doors open at 8 p.m., and the show starts at 9 p.m., with two sets.
Tillinghast at White Buffalo
Songwriter Richard Tillinghast performs at the White Buffalo Thursday, March 16 from 6-8 p.m. Tillinghast is a talented singer, writer and multi-instrumentalist admired for his melodic, porch-side rhythms, story-telling and wit. The White Buffalo Winebar & Bistro. 4040 Westcliff Drive, Hood River.
Kleevage at River City Mar. 16
Local rockers Kleevage will be playing a set of danceable covers this Thursday, March 16 at The River City Saloon. Come down and help celebrate Dave "the bass" Stauffacher's birthday in style. Show starts at 9.30 p.m. No cover.
Salon, more at Stave and Stone
Coming up at Stave and Stone Winery:
Thursday, March 16, 7:30 p.m, Columbia Gorge Orchestra Association (CGOA) Stages Salon, featuring "A night of stories for the young at heart."
Tony Smiley performs at Stave and Stone Winery's one-year anniversary party, Saturday, March 18, 7-10 p.m.
Stave & Stone, 210 Oak St., Hood River; 541-946-3750.
Author Bemis visits March 19
Part cookbook, part memoir, and part love note, Andrea Bemis' new cookbook, entitled "Dishing up the Dirt," is arranged by season, "offering wonderfully unexpected and creative ways to prepare vegetables and fruits, whole grains, and pasture-raised proteins." Sunday, March 19, 3 p.m. at Springhouse Cellar, 13 Railroad St., Hood River.
Entertainment listings can be e-mailed to jdrake@hoodrivernews.com.