Each year I hold a town hall in every county. During my last town halls, there was a startling trend in the questions I was asked.
A man in Gilliam County said that without the Affordable Care Act, he wouldn't be able to afford treatment for his second cancer, because insurance companies considered his first cancer a pre-existing condition. What would I do to protect the law?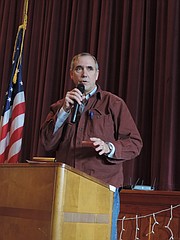 In Hood River County, a young woman expressed fear that women would no longer be able to access health care at Planned Parenthood. How could I defend the clinics?
A student in Sherman County asked what I would do to preserve expanded access to health care. She looked me straight in the eye and said she believes health care is a human right.
I could not agree more.
Quality, affordable health care is not a privilege. It is a right. Throughout my career, I've fought to expand access to that right, but now the lawmakers who want to repeal the Affordable Care Act (ACA) will take us back to the days of health care for the healthy and the wealthy.
The House Republicans have unveiled their TrumpCare plan that is premised on a misplaced priority: providing a tax giveaway for the rich.
TrumpCare provides tax cuts to insurance companies and wealthy people — a $20,000 break per year for the wealthiest 1 percent — while millions of people lose care. The Medicaid expansion, which has extended care to hundreds of thousands of people in Oregon alone, is eviscerated. Taxes on working Americans accessing ACA health insurance are raised by thousands of dollars. Premiums are driven up by as much as 30 percent. Insurers are allowed to charge older Americans more, even as their subsidies cover less. The Congressional Budget Office notes that a 64-year-old man earning $26,500 would have his insurance costs go up more than eightfold, from $1,700 to $14,600 annually.
I know of no other bill that does a worse job of meeting the test that Franklin D. Roosevelt put forward: "The test of our progress is not whether we add more to the abundance of those who have much; it is whether we provide enough for those who have little."
The American Nurses Association, American Medical Association, AARP, and America's hospitals and health systems have all come out against this plan. When nurses, doctors, hospitals and the AARP all agree that a plan is a huge step backward, one knows it's on the wrong track. I stand with health care providers in saying this plan is not acceptable.
We need to preserve Medicaid, whose expansion has insured over 400,000 Oregonians through the Oregon Health Plan. We need to defend the Prevention Fund, which invests in the preventative care that is healthy for both individuals and insurance systems. We need to make sure quality health care remains within reach of working families.
We need to focus our energy on improving the ACA, rather than kicking 24 million Americans off of their health care.
For the sake of the Oregonians who spoke up at my town halls, and for all the Americans who rely on the Affordable Care Act as a matter of life and death, I'll be fighting day in and day out in Congress to protect and improve the quality, affordable health care that they need and deserve.