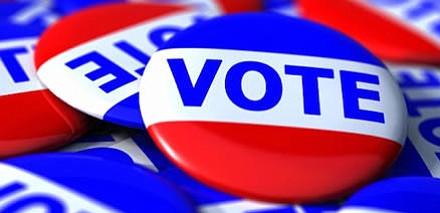 Voters will enjoy a variety of widely-contested races on the May 16 Hood River County Special Districts ballot. Thursday was the final day for candidates to file.
The election affects 13 separate taxing districts and will include ballot measures from Northern Oregon Regional Correctional Facility (NORCOR) and (Cascade Locks only) Mt. Hood Community College.
From a five-person race for two spots on the Transportation District Board to a set of three multi-candidate Port of Hood River Commission contests, there will be plenty to choose from.
Dave Meriwether, former Hood River County administrator, will run for Port against Laurie L. Balmuth, Robert Bart, and Kristi Chapman for Position 3.
Fred Duckwall, long-time Port Position One Commissioner, decided not to file for office. Filing for the post are Anna Williams, Ben Sheppard, and Brian Carlstrom.
Position 2 candidates are Svea K. Truax, John Everitt, and Jeffrey Helfrich.
Two races have emerged for Hood River County School District Board: incumbents Corinda Hankins-Elliott and Rich Truax running against Joanna Smith and Brian Hardy, respectively. Look for four candidates for three spots on the Hood River County Library District, and nine people running for Hood River Valley Parks and Recreation District Board: current chairman Greg Davis, and Nick Kraemer, Steve King, Matt Rutledge, Nan Noteboom, Will Smith, Jim Klaas, Steven Hawley and Anna Cavaleri.
Here is the list of candidates for the Hood River County Special Districts election:
HOOD RIVER COUNTY TRANSPORTATION DISTRICT
Four year positions — two openings
Mark Reynolds
Otto Behrmann
Leanne Hogie
Effie J Mooney
Marbe Cook
TRANSPORTATION DISTRICT
Unexpired two-year term
Theresa North
Bobbie Reisner
HOOD RIVER COUNTY SCHOOL BOARD
AT LARGE — Rich Truax
Brian Hardy
POSITION 2 — David P. Russo
Benjamin J. Sheppard
POSITION 3 — Corinda Hankins-Elliott
Joanna (Jo) Smith
POSITION 4 — Julia Garcia Ramirez
POSITION 6 — Mark Johnson
PARKDALE RURAL FIRE DISTRICT — Two openings
Jason Wilkins
Paul Zastrow
WESTSIDE RURAL FIRE DISTRICT — Two openings
Jim Gray
Jeff Hasegawa
WY'EAST RURAL FIRE DISTRICT — Three openings
Chuck Weseman
Rob Graves
Eric Cederstam
CRYSTAL SPRINGS WATER DISTRICT — Two openings
Bill Munk
Eric Cederstam
Antonio Batista
ICE FOUNTAIN WATER DISTRICT — Three openings
Terry Benton
Gene Baskins
Catherine Hamada
HOOD RIVER LIBRARY DISTRICT — Two openings
Megan Janik, Cascade Locks
Karen Lynn Bureker, Hood River
Brian G. Hackett, Hood River
Sara Marsden
HOOD RIVER VALLEY PARKS AND RECREATION DISTRICT — Two openings
Nick Kraemer
Steve King
Matt Rutledge
Nan Noteboom
Will Smith
Greg Davis
Anna Cavaleri
THE PORT OF CASCADE LOCKS POSITION 3
Dean A. Bump
Sally Drew
POSITION 4
Joeinne Caldwell
POSITION 5
Jessie Groves
David Lipps
THE PORT OF HOOD RIVER POSITION 1
Anna Williams
Benjamin Sheppard
Brian Carlstrom
POSITION 2
Svea K. Truax
John Everitt
Jeffrey Helfrich
POSITION 3
Laurie L Balmuth
Robert Bart
David Meriwether
Kristi Chapman
ODELL SANITARY DISTRICT – Two positions
Butch Gehrig
Robert Duddles