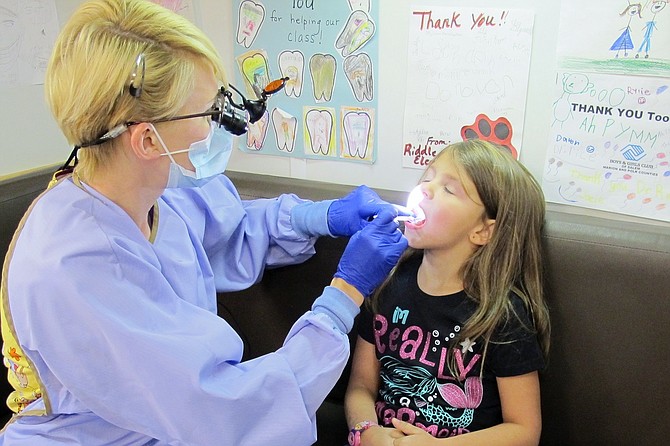 A study released on Feb. 28 shows that Oregon has enough dentists now and into the future to address the state's oral health care needs, but ongoing support is needed for programs that ensure dentists are as easy to find in rural communities as they are in more populated areas.
"Every Oregonian must have access to a qualified, professional dentist, regardless of race, income or geographic location," Oregon Dental Association President Dr. Greggery Jones said. "The Oregon Dental Association is committed to building on recent progress in improving access to oral health care for all Oregonians."
The Oregon Dental Association commissioned the study, conducted by the Health Policy Institute and peer reviewed Portland-based ECONorthwest, in hopes of determining the extent to which geography creates gaps in access to dental care for the state's rural and tribal communities.
While past studies found that cost is the biggest factor keeping Oregonians from visiting the dentist — followed by fear of the dentist and inconvenience, respectively — questions remained about whether the supply of new dentists would keep up as older practitioners retired, and whether dentists were as accessible in rural communities as in urban areas across the state.
The new study looked at the geographic location of dentists and whether they accept public insurance such as Medicaid, producing a heat map to better understand access across Oregon.
"We wanted to dig deeper and develop a more accurate picture of access to dentists, especially in rural areas," said Jones, whose dental practice is in Redmond. "We now know that we have enough dentists to serve the entire state. We just need to ensure other barriers aren't keeping people from receiving the care they need."
The study found that:
• The supply of practicing dentists in Oregon is projected to rise steadily through 2035, with more new dentists entering the workforce by moving to the state or graduating from dental school programs than those leaving due to a move or retirement.
• The net increase in dentists exceeds projected population growth. This is true even when accounting for differences in work levels and hours due to age or other life factors.
• Of children who rely on public insurance to pay for dental care, 91 percent live within 15 minutes of a dental care provider who accepts Medicaid patients, and nearly all — 98 percent — live within 30 minutes of a Medicaid dental care provider.
• When it comes to all Oregonians and access to a qualified provider, 94 percent of Oregon's population lives within a 15-minute trip of a dentist, and 99 percent live within a half hour of a dental care provider.
"While there's still work to be done, we now have concrete data showing that we don't face a challenge when it comes to our workforce and supply of dental care providers," said Oregon Dental Association President-Elect Dr. Bruce Burton, a dentist in Hood River. "Knowing that means we can focus our resources where they're needed most: ensuring professional dentists are available and affordable to all Oregonians."
The findings will play an important role as the Oregon Dental Association continues supporting initiatives to expand access to dental care.
The state has already seen success through programs such as rural practitioner tax credits, loan forgiveness provided through Scholars for a Healthy Oregon, and the Oregon Medicaid Primary Care Loan Repayment and Forgiveness programs. Innovative efforts such as Oregon Health and Science University's virtual dental homes have also improved rural access to care. The Oregon Dental Association, in partnership with Oregon tribes and OHSU's School of Dentistry, is now looking at additional opportunities to improve oral health care for underserved communities as well.
"As health care providers, we know the importance of having the right diagnosis to determine the right treatment," said Burton. "We look forward to using this information to develop solutions to ensure all Oregonians have greater access to professional dental care."