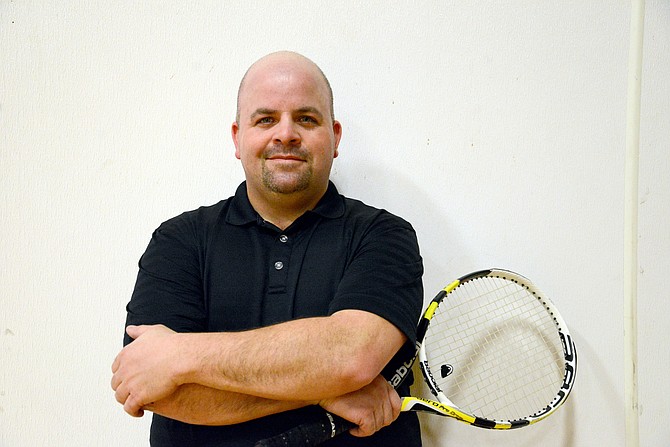 Erin Mason will be head honcho on the hardcourt for the Hood River Valley High School girls tennis team this season — provided that the weather ends up cooperating long enough for the team to make it outside and get some matches underway.
Mason was named head coach for the team in the offseason, taking over for Ellie Schmidt, who moved over to the HRV track and field program to coach long sprints and hurdles. He previously served as assistant coach and is as thrilled about the opportunity as he is about the sport in general.
'My goal for this season is to win the Columbia River Conference, of course. I have a few tricks up my sleeve for this season and I feel I have the right squad to do it with.'
ERIN MASON
"If you ask my players, they will say I am tennis crazy… I am very passionate about the sport and the team effort it takes to be successful," he said.
Mason was born and raised in the Hood River Valley and graduated HRVHS in 1994. He has worked in law enforcement — something he said he has been interested since he was 16 — for nearly 20 years and has worked as a full-time police office for the Hood River Police Department since 2001. Mason is married to Tamme Pearson-Mason, who is a registered nurse in the emergency room at Providence Hood River Memorial Hospital, and they have three kids: Lily Robarts, a junior at HRVHS; Sadee Rose Mason, a kindergarten student at May Street Elementary; and Keller Everett Mason, who is 3 years old.
Originally a racquetball enthusiast, Mason said he gave it up "and fell in love with the sport of tennis" in 2001. Through the Hood River Sports Club, Mason joined a U.S. Tennis Association team and participated in competitions (the club has fielded numerous successful teams, including ones who have qualified for national tournaments). He was coached by Kevin Beeson and Craig Pearce at the club, noting that "I have learned everything I know about tennis from Kevin over the years."
In 2015, the head coaching job first came available, brought to his attention by Jaime Rivera, coach of the HRV boys varsity soccer team, who was aware of Mason's tennis experience. Mason said he wasn't able to take the job because of his work schedule, but ended up serving as assistant coach to Rivera, who headed the program in a one-year interim stint following the departure of former coach Gretchen Newcomb. The job came up again for the 2016 season, but again, Mason's schedule made it untenable for him to serve as head coach, so he continued on in his assistant role. Last summer, Schmidt informed Mason she was switching over to track, he said, and he jumped at the opportunity to be head coach.
It's early in the season, and Mason hasn't seen much of his players on the court thanks to the dismal late-winter weather, but he expects big things from this year's team.
"My goal for this season is to win the Columbia River Conference, of course," he said. "I have a few tricks up my sleeve for this season and I feel I have the right squad to do it with. It is a balance for us, placing players in the right positions that will make them successful and enjoy the experience. I am thankful to have 21 great ladies on this team that work hard as singles players and double players."
All of his JV and varsity players have the potential to make an impact this season, Mason said, as players can, and often do, shuffle between the two levels. However, Mason mentioned returning players Montserrat Garrido and Nikki Paulus "could shake things up at districts this year" in the singles bracket and the pairs of Bianca Badillo/Claire Oswald and Crystal Flores/America Flores "will be a force this year" in doubles competition.
After having a couple seasons to analyze their play, Mason said he wants to improve net play for 2017, noting, "I feel we lose many points every match by not taking command of the net." He'd also like to see his players unseat CRC rival Hermiston, who took the title last season, while the Eagles finished second.
Most of all, though, he wants his players to continue to work hard and perform to the highest level they're able.
"I am competitive, of course, but I want the girls to have fun and enjoy coming to practice — that's what it's about for me. I tell them all the time, 'As long as you are doing your best, the outcome doesn't matter to me,'" he explained. "Win, lose, or draw, I am proud of each of them at the end of the day."
•
The girls tennis season was originally scheduled to start Thursday with a nonleague match against St. Helens at the Tsuruta Tennis Courts in Hood River at 4 p.m., but that was pushed to April 6. The girls will now have their first match of the season Saturday at Parkrose and their first home match Tuesday at 4 p.m. against Sandy.