With the Oregon State legislative session underway, Environment Oregon hosted a solar town hall on Thursday, March 16 at the Columbia Gorge Discovery Center.
Presenters Carlina Arango, Environment Oregon's solar campaign organizer, Terry Tomei, solar consultant from Elemental Energy, and Max Muller, Oregon Solar Energy Industries Association (OSEIA) legislative director, discussed solar incentives that are on the line — mainly the Residential Energy Tax Credit (RETC) — and actions to take to protect these valuable solar tax credits. The audience represented a wide range of community members, including homeowners considering solar panels, Columbia Gorge Community College students, local solar consultants, and general community members interested in learning more about solar in Oregon.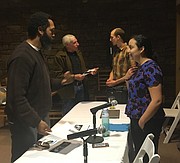 "Oregonians support solar and Oregon has a strong solar industry because we have strong solar incentives," said Tomei. "Ending the Residential Energy tax credits will end residential solar and drive down our growing solar industry; that's why we're out here having these important discussions surrounding solar."
The town hall provided information on RETC, a program with a long history in Oregon to financially incentivize residents to get solar energy systems installed in their homes, at risk of expiring in December 2017. Speakers brought attention to the benefits and advancements of solar energy brought by the RETC, including the decreasing cost of solar in Oregon and the increasing number of high-paying jobs created within the solar industry.
"There are a couple of key actions folks in The Dalles and Hood River can take to get as much bipartisan support for the RETC renewal through House Bill 2681," said Arango. "Giving a call to your state legislator and voicing your support for solar, specifically stating HB 2681, is a quick yet effective way to make your voice heard.
"There is also a statewide solar lobby day happening on Monday, April 17 to meet with legislators in person and discuss why solar matters to you. These legislators are here to represent you and they deserve to hear from you, so I definitely recommend everyone to take action in some way. Your voice can make a real difference," she said.