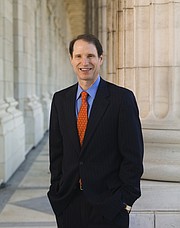 Oregon U.S. Sen. Ron Wyden will hold his annual Hood River County town hall on Saturday, March 25.
This 11 a.m. town hall at the Hood River Middle School auditorium, 1602 May St., will increase to 804 the number of town halls Wyden has held in his promise to hold town halls each year in all of Oregon's 36 counties.
"I've never seen anything like the incredible turnouts in 2017 at my town halls and the vocal enthusiasm for community involvement all over Oregon," Wyden said.
"It's clear these town halls are tapping a deep vein of participatory democracy," Wyden said. "And I am looking forward to hearing from Hood River County residents how we can continue to work together on protecting the Oregon way of focusing on solutions."
•
A coalition of community advocacy groups has organized what they call a "Constituent Town Hall" April 8 from 4:30-6 p.m. with hopes that Rep. Greg Walden will appear. Organizers said they expect more than 300 constituents from the Second Congressional District to voice their concerns, discuss recent developments in Congress, and pose questions for Walden. Walden has been invited to attend, but so far has not responded, according to organizer Bonnie New. The coalition is comprised of Columbia Gorge Climate Action Network, Columbia Gorge Women's Action Network, Gorge Ecumenical Ministries, Indivisible Columbia Gorge, Protect Oregon's Progress, and South Wasco Indivisible.