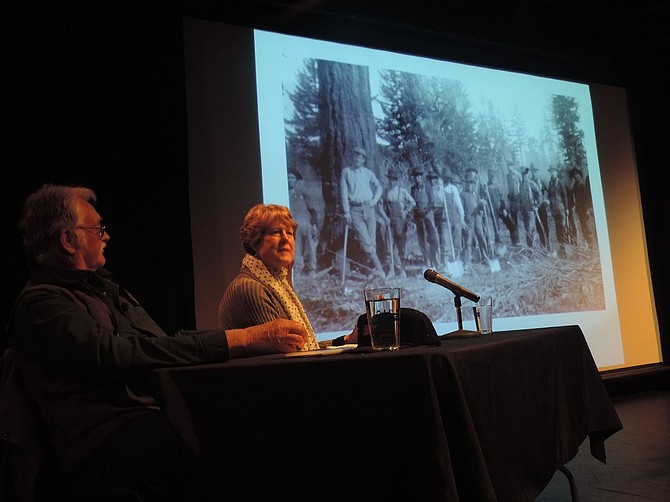 In honoring heroes past and present, one or two geographical details escaped the speaker, but not the human ones.
Dr. Linda Tamura led a standing-room only history lesson last Wednesday focusing on "heroes who acted on what they believed was right.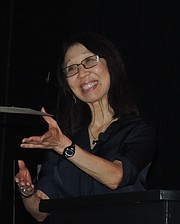 "Today we call that 'social justice,' but they often did not talk about it themselves — they acted just because," Tamura said in "A Sense of Honor," the last of the Gorge Owned series of Sense of Place lectures at Columbia Center for the Arts, held March 15. About 175 people attended the event, including 30 or so audience members who sat on the floor to hear Tamura and other speakers.
Tamura, a retired Willamette University professor and "proud orchard kid from Hood River," got help from the audience in mentioning "Oak Hill?"
"Oak Grove," someone in the audience called out.
"I've been away too long," Tamura joked.
But she brought to life the experiences of others, and vividly remembered her own upbringing at Pine Grove School, the only Japanese-American in her class. It was the 1950s and her parents and grandparents had been incarcerated under Franklin Roosevelt's Executive Order 1066.
Tamura introduced Sydney Babson Blaine, Jack Sheppard, and Joan Laurance, all children or grandchildren of Hood River Valley residents who stood up and outwardly supported their friends in the face of routine discrimination.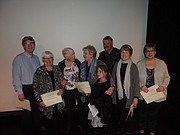 In 2014, the community honored 18 "Heroes Unheralded" at The History Museum of Hood River County: recipients told of the family's reactions to hate "in different and often surprising ways," Tamura said.
This year, nine "Unheralded Heroes II'" certificates were presented at the event by County Chairman Ron Rivers, Hood River Mayor Paul Blackburn, and Museum director Lynn Orr. See below for a group photo, and page B10 for details.
Speakers at the Sense of Honor lecture were:
• Sydney Babson Blaine of Parkdale is granddaughter of Sydney Gorham Babson, an east coast settler who hired and befriended Japanese workers. Her family dedicated a plaque at the Mt. Hood Railroad Depot in 2012 to memorialize the forced removal of local Japanese Americans. Gorham Blaine, Sydney Babson's great-grandson, owns McIsaac's Store in Parkdale, which in the early 1940s was one of the few in the county to serve Japanese-Americans.
Sydney Babson was the 1960 orchardist of the year; Sydney Blaine purchased the family orchard in 1974, and the family now owns orchards in four counties.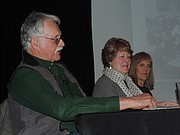 • Jack Sheppard is a retired businessman and son of the co-founder of Shepard's downtown farm machinery business. He discovered correspondence between his father and Japanese-Americans whom he endeavored to support during and after the war. Charles Sheppard came to the valley in 1908 and farmed in Duke's Valley near Odell; in 1919, he started the feed, seed, implement and auto sales business downtown (Sheppard and Co. today) and Jack became a Hood River apple and pear orchardist.
• Dorothy and Joan Laurance, both of Hood River, are the widow and daughter of the late Capt. Sheldon Laurance. Capt. Laurance wore a letter, published in the Oregonian in 1945, decrying "such unjustified prejudices and insults to … some of the nation's best fighting men …"
Laurance, a 1935 college grad, taught civics at Odell High School, and farmed with the family before buying the ranch in 1967; he was orchardist of the year in 1961, and namesake of Laurance Lake in 1969; Joan, a naturopathic physician, and her mother both live in Parkdale. (Dorothy was unable to attend the event.)
•
"We don't always take the time to learn about each other and our sense of place," said Amanda Lawrence of Gorge Owned. She quoted a recent local church readerboard, which read, "Your opinion doesn't change the world, your actions do," adding, "I have been thinking a lot about those words in terms of tonight's lecture, because you will hear from people who took brave and bold actions at a time when it was not safe to do that.
"Our actions need to be informed — the better informed they are, the better actions and decisions we can make," Lawrence said.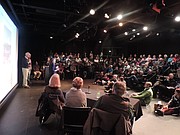 Tamura and the panel members interspersed humor while relating dramatic and tragic details of the circumstances that happened in the Hood River Valley after Pearl Harbor. They came in three main stages:
• The casual discrimination against Japanese-American residents of the community in December 1941 onward;
• The formal injustice of unwarranted arrests and the federal executive order denying basic rights to American citizens who happened to be of Japanese heritage, and their imprisonment from early 1942 until 1945;
• The widespread prejudice against Japanese-Americans from 1944 on, and until after the war, including the treatment of Silver Star recipient George Akiyama who, in 1945, sought a hair cut in a Hood River shop and was chased by a razor-wielding barber who told him, "I should cut your throat."
"You're worse than most Germans we fought," Akiyama told the man. The incident was witnessed by Sheldon Laurance, also home from the war, who drove and then walked through deep snow to go to Akiyama's home in Oak Grove to apologize.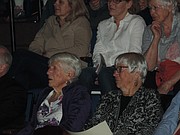 Tamura said, "When I asked questions about my grandparents, the internment camps, and our valley, I was told 'It's a touchy subject.' But I remembered my mom talking about how good Mr. McIsaac was, and the kindness of the Babsons. I grew up with the knowledge that there were special, generous people in my family's lives."
She told of Arlene Moore, who went grocery shopping for people local merchants refused to serve and Rev. Sherman Burgoyne, who repeatedly wrote letters and spoke out against the mistreatment.
In 1966, Mid-Columbia Japanese-American Citizens League held appreciation banquet at Wy'east High School (now middle school) honoring Arlene Moore, Avon Sutton and the League for Liberty and Justice, Burgoyne, and Parkdale store owner R.J. McIsaac with certificates of appreciation.
"They were people who stuck out their necks to help Japanese-Americans. It takes courage to recognize injustices and then to step forward and speak out and act. And withstand challenges because there might me repercussions from others," Tamura said.
Gorge owned events
• Tod LeFevre Sustainability Awards — Amanda Lawrence of Gorge Owned announced at the lecture last week that Gorge Owned is accepting nominations for the awards through April 10. To nominate an individual, student or business who has made a difference in the community, go to gorgeowned.org/programs.
• Green Drinks — The next gathering, open to the public, will be 5 p.m. April 19 at Freebridge Brewery in The Dalles. Green Drinks is a way to learn about local businesses and go behind the scenes, in this case the brewery's home in the historic former Mint Building.
• The non-profit's new podcast series, "Here in the Gorge," kicks off May 17, and promises programs "that will change your sense of place," Lawrence said. Produced by Sara Fox, the first podcasts are the Homer Yasui lecture from last fall, history of Crag Rats, and Woody Guthrie's "Columbia River Songs."
As was the case of Jack Sheppard, son of businessman Charles Sheppard, "Sometimes those were only discovered by family members in documents or letters of pictures, or a comment someone made." Jack found correspondence belonging to his father when he was cleaning out a desk late in his father's life.
The speakers see similarities to American society today.
"I think we are seeing this all over again today and it is so distressing," Blaine said. "Just as young Japanese people came here to work and help the farmer, we have young Mexican people, who we cannot farm without. We need them and at the same time we provide them money to send home, to help their families. It improves life in Mexico. It is a big country on our border we need to help. To put up walls and try to keep people away? Who is going to pick our crops? This is a big issue and I'm really distressed about it."
Joan Laurance said, "It is so obvious now. I hope that we can remember the past and I think we all have to be vigilant every day and do our best and work locally and do whatever we can."
Jack Sheppard said, "Right now, the government is applying one of its favorite tricks and this is to break the population into as many small groups and pit them against each other. Pay attention to what they are really doing: blowing smoke with that tactic. Their favorite target is the Muslims, and after that the Mexicans, and I am really pissed at the treatment of Indians at Standing Rock."
The 2017 heroes unheralded recipients
• Nancy Moller and Jean Harmon, who taught about the Japanese-American experience in their contemporary U.S. History class at Hood River Valley High School in 1972-88. When students were told to ask their parents about the period of history in the valley, "They got silence for an answer." Harmon and Moller believed "if we got to know each other better, we believe prejudice would not exist."
• Connie Nice, former coordinator of The History Museum of Hood River County, who convened locals to determine stories and artifacts of the period, leading to a permanent exhibit, including looping video featuring Tamura, at the museum. The 2006 special exhibit, "Circle of Freedom: Lost and Restored," honored the vital contribution of Japanese Americans to rural agriculture while also recognizing wartime injustice.
• Joan Yasui Emerson, who died in September 2016. Emerson coordinated the 2007 Day of Remembrance event "to break the silence that hung over the valley like a shroud," and hosted a panel and exhibits including authors with Hood River roots — Virginia Euwer Wolf, Nancy Moller, and Mitzi Asai Loftus, and then-Oregon Poet Laureate Lawson Inada, also an internee in the 1940s, who said, "We are opening the closets of history."
• Rita Sailing, now of Bellingham, Wash., who grew up in Parkdale from the third grade and knew that orchardists took care of some Japanese-American-owned farms. She joined Master Gardeners and helped found the Japanese Heritage Gardens at OSU Extension Center, dedicated to the role of Japanese-Americans in the success of local agriculture, and commemorating the grave injustice of forced relocation during World War II.
• Bob Huskey, sexton and manager of Idlewilde Cemetery, who organize the creation, at Memorial Day 2011, of a memorial stone at the Walk of Honor as a way of healing the wound created in 1944 with the removal, for two months, of Japanese-Americans' names from the American Legion marker in downtown Hood River. The Idlewilde memorial contains those names and all names of Japanese-American citizens of Hood River valley who served in the military.
• Maija Yasui, former president of Mid-Columbia Japanese-American Citizens League, Hood River News columnist and community activist, for her role in collecting and publishing the stories of Japanese-Americans of the area, and organizing programs and events, including the Minoru Yasui Day.

• The Blaine Family for their loyalty and friendship to friends and neighbors spanning seven decades or more, including their 2012 sponsorship of a historic plaque at Hood River train depot, commemorating "the sad moment in Hood River history" when the train of tears that took some 600 local residents away to internment camps in May 1942. The plaque was sponsored by the Gorham Babson Family Fund and Gorge Community Foundation, and reads, "One hopes that some of those who came to see them off came in friendship and sorrow. This was truly a heartbreaking moment in the history of Hood River County."
• Kirby Neumann-Rea, editor, Hood River News, for the newspaper's coverage of community events, including the 2014 Heroes Unheralded and Congressional Gold Medal program in Portland, where Hood River native Shig Imai was honored for his military service in World War II.