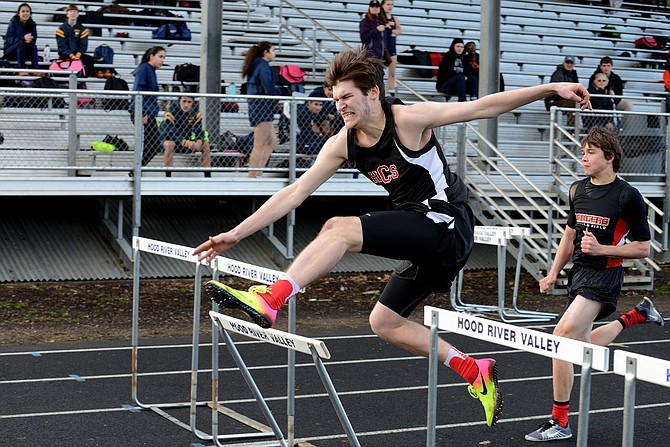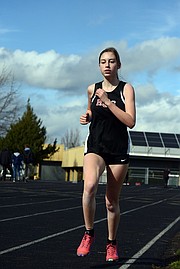 The Horizon track team squeezed in another meet in between rain clouds at Hood River Valley High School Wednesday afternoon, competing against primarily HRV junior varsity athletes, along with those from Dufur and Klickitat.
First-place events for the Horizon girls included the 1500-meter run, where Amy Requa took first with a time of 6 minutes, 20.94 seconds and the 4x400 relay, which included Requa, Ally Funk, Miranda Roberts, and Savanna Hawk, who combined to drop a 5:53.92.
For the boys, Andrew Rinella grabbed the gold in the 400-meter dash, and Luke Holste did the same in the 110 high hurdles (18.93). Connor Wells also took first in the discus with a throw of 90 feet, 7 inches.
Head Coach Emma Neiworth-Petshow was impressed with the early-season efforts, although there is, of course, still room for improvement.
"Some early season meets there are surprises, such as Quinn Roetcisoender's pole vault where he improved by one foot from the previous week and Connor Wells' and Amy Requa's 1500-meter race where he easily matched his goal time and where she led easily with a lot left in the tank," she said. "It also shows where the team's level of fitness and health is. We will definitely be going back to the drawing board today and discussing injury prevention, importance of warm-ups, and getting in some much-needed conditioning before spring break hits.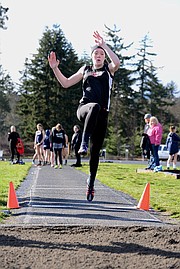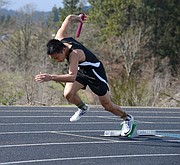 "Overall, I think the team is in a good place leaving early season, and I am looking forward to seeing what they can really do after spring break ends and we get some nice weather out in the Gorge," she added. "We also still have not had our whole team compete yet, so it will be nice to get the last quarter of them out for a meet."
Horizon's next competition is March 29 at the Canby All Comers meet.
Horizon, top five
Boys
100: Luke Holste, 3rd 12.27
200: Quinn Roetcisoender, 3rd, 25.50 (PR)
400: Andrew Rinella, 1st, 58.83
1500: Connor Wells, 2nd, 5:01.56
4x100 relay: Andrew Hung, Bailey Holste, Roetcisoender, L. Holste (1st, 47.38)
Shot put: Sam Schneider, 2nd 38-0; Joseph Durham, 4th, 32-9
Discus: Wells, 1st, 90-7; Andrew Wells, 2nd, 88-4 (PR); Schneider, 2nd, 88-4 (PR)
Javelin: Chris Hoeffner, 3rd, 110-9
Pole vault: Roetcisoender, 3rd, 10-6
Long jump: B. Holste, 5th, 17-5
Girls
200: Kaitlin Wenz, 2nd, 30.51
1500: Amy Requa, 1st, 6:20.94
4x400 relay: Requa, Ally Funk, Miranda Roberts, Savanna Hawk (1st, 5:53.92)
Javelin: Fionna Marsalis, 5th, 57-3 (PR)
High jump: Paulina Finn, 2nd, 4-4
Pole vault: Hawk, 2nd, 6-6
Long jump: Wenz, 3rd, 13-2.5