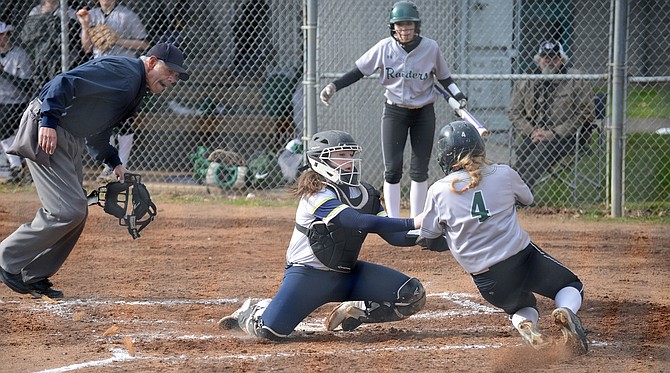 The HRV softball team put together great performances in the Eagles' second week of play and were rewarded for their efforts, defeating Sandy and then 6A Reynolds to rise to a 3-2 record heading into spring break. And though it's too early in the season to be putting much stock in OSAA rankings, the Eagles have to be happy about achieving a No. 9 spot in the 5A standings at the end of the week.
HRV 4 at Sandy 1
After having a rough outing last weekend against Barlow — a game which saw HRV commit nine errors — the Eagles softball team had a much-needed bounce-back effort Tuesday with a 4-1 road win over the Sandy Pioneers (0-3).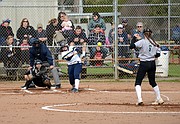 Knotted at 1-1, the Eagles surged ahead with a three-run seventh inning that was sparked by Emilie Ellifritz (3-for-3, two singles, triple, RBI), who hit an RBI triple on a line drive to center field that scored Lorena Johnson for the go-ahead run.
Ellifritz was one of three HRV players who had multi-hit games Tuesday, contributing to the Eagles' game total of eight. Zoe Munn, who had four plate appearances, bookended the game with an RBI double in the top of the first to get HRV on the board with a run by Haylee Baker and an RBI single in the bottom of the seventh that plated Lauren Decker. Haley Hughes went 2-for-3 in the game, hitting two singles and Decker, who had two stolen bases in the game, hit an RBI single for the insurance run in the seventh, sending Ellifritz home.
Head Coach Eric Keller said some spirited defense helped ease the pressure on the team and provided confidence, which led to a reduction in errors.
"I was excited to see the growth in the defensive play. The infield came out of the gate with a stunning double play to eliminate a leadoff runner," he said. "Haley Hughes caught a sac bunt pop up and got the runner out at first. Continually we made defensive plays with confidence. It helped to have Lauren execute her pitch location and keep the Sandy hitters off balance. She was able to induce ground balls."
Decker got the win on the mound for HRV, pitching a complete game with six hits, one walk, an earned run, and a strikeout. HRV's defense had a better performance this game, limiting Sandy to a run off a line drive double to center, committing only one error, and even notching a double play in the bottom of the first, when Hughes, playing third base, caught a fly ball and threw it to first baseman Kaylin Winans, who put out a Sandy player who had neglected to tag up.
HRV 10, Reynolds 1
The Eagles seem to be enjoying playing at the Ballpark at Belmont this season — for the second time, HRV put up 10 runs at Westside Elementary and saw an inspired defensive performance, holding the 6A Reynolds Raiders (3-1) to just one run.
"That was a fun game," Keller said. "They played so well in all aspects."
HRV put on an offensive clinic, stringing together 13 total hits — many of which came in the Eagles' first at-bats, as HRV flew out to a four-run lead in the bottom of the first inning and never looked back.
The Raiders couldn't seem to figure out Hannah McNerney, who had her best effort from the rubber this season, giving up four hits, no earned runs, and no walks, while striking out six batters. Reynolds' lone hit of the evening came on a fly ball double to left field in the top of the third.
Seven players were responsible for HRV's 13 hits, but frosh Mackenzie Chambers had the biggest offensive performance of the night, going 4-for-4, hitting three singles and a double, and driving in three runs. She also played well at the catcher position, subbing in for Zoe Munn, who played at second.
"For her first full varsity game to catch a great game and go 4-for-4 was impressive," Keller said.
Other hitters included Munn (3-for-4, two singles, double, RBI), McNerney (2-for-4, single, triple, RBI), Lauren Decker (1-for-4, single, RBI), Makena Zeller (1-for-2, single, two RBI), Kaylin Winans (1-for-3, single), and Haley Hughes (1-for-3, single, RBI). Haylee Baker and Emily Mason each had a stolen base in the game, while Mason and Lorena Johnson also scored twice.
•
The team's next competition after spring break will be a road game with Clackamas (3-0) April 3.