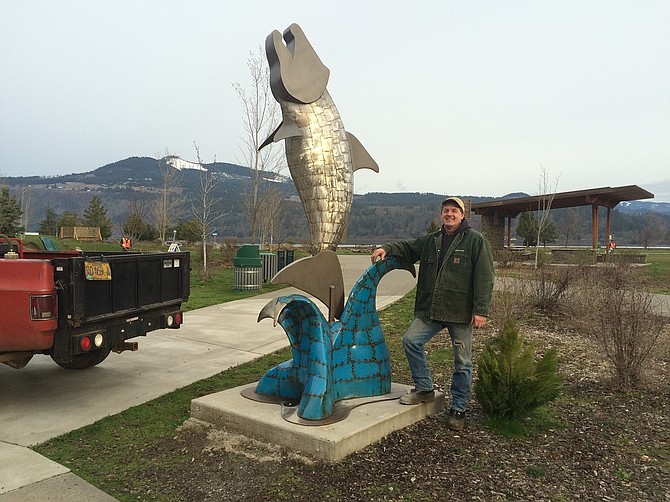 "Big Art" is in transition. Also known as Art of Community, the outdoor gallery is now in its third year with sites downtown, on the waterfront, and the Heights.
Kristen Godkin, AOC coordinator, said works are being added or moved, and a final tour guide (paper and online) of 20 or more pieces will be published later this spring.
Art of Community has selected "N'Chi Wanapum," a proposed 7-foot-4-inch work by artist Foster Kalama of Warm Springs, under an Oregon Cultural Trust $8,000 grant.
"Hood River and the Columbia River Gorge has a strong history of diversity and multiculturism," Godkin said. "To help increase and sustain artists of diverse cultures, the Oregon Cultural Trust awarded Arts in Education of the Gorge a $8,000 Grant for an artist to propose and develop a piece of art that will be exhibited in this 2017-2019 Big Art Exhibit."
The mixed media piece of steel, wood and natural fiber will be located later this year at the Hood River Waterfront along Nichols Basin (where C.J. Rench's "New Leaf" is currently sited).
Foster Kalama called N'Chi Wanapum "a sculpture of my life, my father's life and ancestors. I have fished the scaffolds since I was eight with my dad, Kalama Sr."
Upon completion of the exhibit the piece will be returned to the artist. This grant was open to artists who live in Oregon (for a minimum of six months) and are from a Native American, Japanese or Latino background.
Other Art of Community changes include:
• "Steel Head," by Oregon City artist Ben Dye in place at Waterfront Park – see photo, above.
• "Swan Song," by Whit Poor, formerly at Waterfront Park, was purchased by Hood River Inn as a permanent piece.
Twenty percent of the sale goes to Art of Community's fund to purchase a permanent piece for the community.
(Poor's "Poise" graces the northwest corner of Sixth and State streets.)
• "Constellations II," by C.J. Rench, west of the Hood River Chamber of Commerce, is permanent.
• "The Thinker" at Nichols basin trail, was re-sponsored by the Port of Hood River
• "Jefferson Cubed," by MacRae Wylde, may be moved from its Industrial Way location.
• "Medori Spring" by Ann Fleming has been returned to the artist from its place at Hood River Library; Fleming's White Salmon studio will be part of the Gorge Artists Open Studios tour (details below).
• "Dual" by Francisco Salgado is new on Oak at Doppio café.
Third and State update
Art of Community was contracted by the City of Hood River to facilitate the process for a permanent piece of art at the Third and State Street Hood River Gorge Bike Hub. This will be incorporated with the overall facility.
AOC received 17 quality submittals from artists throughout the West and is in the process of giving a recommendation to the City of Hood River for approval, according to Godkin. The permanent piece does not affect the AOC sculpture site at the west side of the Bike Hub plaza, which currently holds "View" by Hood River artist MacRae Wylde.