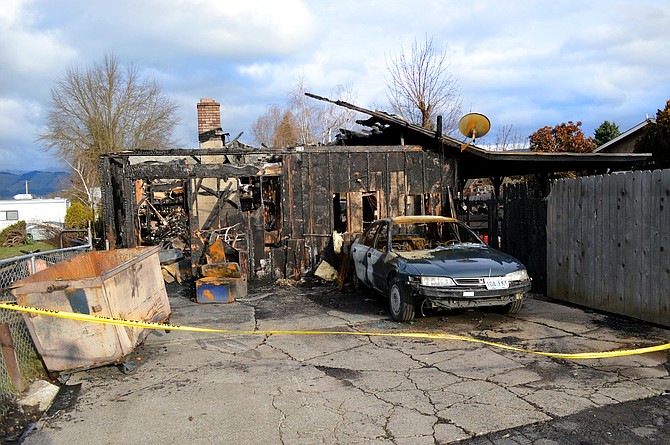 A house fire ripped through a home near the Hood River County fairgrounds Sunday, wreaking serious property damage but no injuries.
Three adult residents and a guest made it safely out of the single-family house in the 4100 block of Bartlett Drive, off Summit Drive in Odell, benefiting from an early alert from smoke alarms.
The fire's cause remains under investigation, Wy'East Fire Chief Greg Borton said Monday, but evidence shows it broke out in the garage.
Smoke detectors gave the occupants enough time to wake up two adults who were sleeping. One resident tried putting out the fire with an extinguisher, Borton said, but the flames had already grown too large. A total of four adults fled the building unharmed.
Multiple valley fire agencies teamed up to subdue the blaze. Dispatchers sent Wy'East Fire Department to the structure fire at about midnight Sunday morning, March 26, on report that flames and smoke were visible from outside — a first alarm activation. Hood River Fire Department, West Side Fire Department, and Parkdale Fire Department joined the emergency response.
"When we got there, there were flames showing from the garage, kitchen, living room area. It had busted through the roof by the time we had got there," Borton said.
It took about an hour to knock down the flames. Crews with two mainline hoses sprayed water from outside in front of the house, while another team entered through back windows and attacked the fire from the inside. After dousing the main fire, crews spent another few hours getting to corners of the building and extinguishing hotspots.
In total, Wy'East Fire was on scene for about three hours for the fire suppression, not including subsequent investigations.
The front portion of the house suffered the most in the fire, which scorched the roof and destroyed many possessions inside. Piles of blackened household items and a heavily damaged car remained. Most of the roof had collapsed, and a strip of picket fencing was charred. On Monday, yellow emergency tape cordoned off the property.
A back portion of the house, including bedrooms, wasn't as badly hurt by the fire. Despite the "significant loss" overall, the flames didn't impinge on the back area, Borton said.
The American Red Cross responded to help the residents affected, providing resources to help address immediate basic needs, such as temporary housing, food, clothing, comfort kits with toiletry items, information about recovery services, and health services.
Borton noted as a positive aspect that the functional alarms helped the residents avoid any injuries.