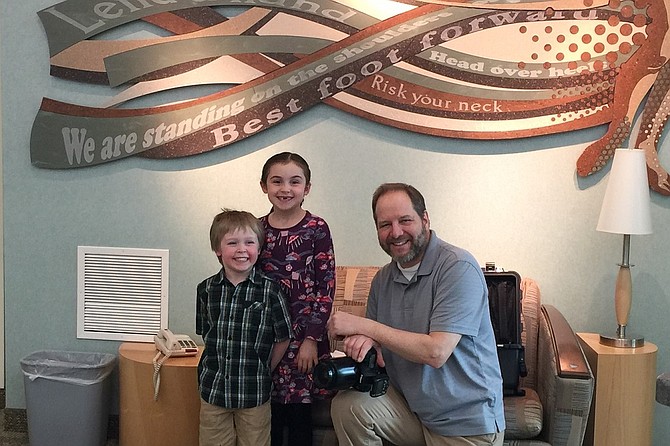 I slipped away from granddaughter Aunika's softball game at Westside Elementary to meet son Niko and his family at the hospital. No, there was no emergency. In fact, it was a reunion of sorts. The Providence Foundation had asked to update an article featured seven years prior on two birthing rooms that my husband and I sponsored in honor of our father's Ray (Chop) Yasui and Sulo Annala. We had chosen to honor these patriarchs in a manner fitting their legacy of service and compassion for others. What better way than with the naming of rooms where families would celebrate the birth of a child, passing their legacy on to the next generation?


A photo accompanied that earlier article of Aya Yasui soon after her birth in the Annala room at Providence Hood River Memorial Hospital. Two years later her younger brother Ren was born in the adjacent Yasui birthing room. Neither of their great grandfathers lived long enough to cradle these babes in their arms, sing them lullabies in their native language, or play practical jokes on them as they grew. Yet Sulo Annala and Chop Yasui's influence extended across the generations, carried on the back of genetics, tradition and the environment of a caring community. Ren and Aya are a Heinz ketchup mix of Japanese and Finnish, German, Irish and English, with a dash of rural Hawaiian and Hood River cosmopolitan cultures thrown in for good measure.

Even at the tender ages of four and six these beautiful children are walking in the footsteps of their forefathers, in service to others. Their footprints will seek a new direction, diverging just as their parents did from the path of their grandparents, but remaining steadfast to the deeply engrained tradition of service and compassion. Over a century ago, Chop's father Masuo Yasui, a well-spoken Hood River immigrant from Japan, shared this family philosophy: "We are all born for a purpose and that purpose it to make this world a better place for our having been here." These words are engraved on the Minoru Yasui Legacy stone soon coming to rest in a peaceful garden on the library lawn, the heart of our community.
(See hoodrivernews.com and the April 1 edition for updates.)
•
While our fathers shared a similar legacy of service they did it in their own inimitable manner. Chop Yasui returned to Hood River after his internment during World War II to rebuild his farm and mend fences with neighbors. He did not shy from being in the forefront of any community effort big or small. He helped build Wy'East's football stadium and baseball fields in Odell. He coached sports teams, served on the State Board of Higher Education, Oregon's Automobile Association, led state trap shooting organizations, founded the Tsuruta Sister City organization and was chairman of the board for Diamond Fruit Growers for decades. He was comfortable seated at the board of director's table in a suit and tie or in a flannel shirt out in the orchard. He was gregarious, funny, intelligent and a lover of large social gatherings of family, friends or business associates. He loved to travel, making life-long friends wherever he went, sharing the beautiful Hood River Valley with friends from around the world.
•
Sulo Annala served his friends and community as far away from the public limelight as possible. He was quiet at community gatherings, but a practical joker with friends and family. He donated blood throughout his life, proud of the many gallon pins that represented the hundreds of lives saved. He was a founding father of the Crag Rat Mountain Rescue group assisting on hundreds of search and rescue missions in every capacity, except one. He was never the Big Squeak, or Crag Rat spokesperson, but always the mouse that roared through dedicated service to the community. He was the confidant of many neighbors and friends when they struggled with life issues. He raised four rowdy kids on his own, never flinching in his love or commitment, instilling in them the willingness to serve others. He worked tirelessly to support his children during the depression of the fifties and sixties, much as he had done with his seven siblings in the Great Depression of the twenties and thirties. My father always placed his family's needs before his own. He helped neighboring farmers in their time of need, planting, harvesting and spraying their crops when illness or death came calling. He referred to a suit and tie as a strait jacket, living most of his 80 years in the farmer's uniform of the 1940s, a khaki shirt and pants, blue bandana tucked into the back pocket.
So we come full circle to the Providence photo shoot last Thursday. Photographer Michael Peterson mentioned the Gorge Magazine shoot he had completed featuring the Crag Rats and how impressed he was with the organization. Ahhhh, my father's legacy. Susan Frost commented on the Yasui fight for social justice and civil rights. The Yasui legacy.
•
Ren and Aya are already on the path of serving others having participated in food, toy and clothing drives, visiting the elderly and infirm at retirement and nursing homes, and now lending their young faces in support of better health care for all. On Tuesday, March 28, they will be at the State Capitol distributing thank you cards and pins to the 90 legislators who passed Oregon's Minoru Yasui Day in perpetuity. They will listen to their cousin Kendra Wilkins open the legislative session with a stirring tribute to the trials suffered by Japanese Americans when they were illegally imprisoned by the U.S. government. And they will witness history in the passage of House and Senate Concurrent Resolutions acknowledging the injustice, pain and suffering inflicted on Japanese Americans during World War II by recognizing the National Day of Remembrance.
They will hear the words, but more importantly hear the commitment of Oregon's legislators:

Be It Resolved by the Legislative Assembly of the State of Oregon: That we, the members of the Seventy-ninth Legislative Assembly, recognize the historical significance of Feb. 19, 1942, the date President Franklin D. Roosevelt signed Executive Order 9066, restricting the freedom of Japanese Americans and other legal resident aliens through required identification cards, travel restrictions, seizure of personal property and incarceration; and be it further
Resolved, That we support the goals of the Japanese American community in recognizing the National Day of Remembrance to increase public awareness of these actions; and be it further
Resolved, That we, along with the people of Oregon, in order to recognize and honor the heroism, sacrifice, patience and loyalty of the Japanese American World War II veterans and internees and to remember the lessons and blessings of liberty and justice for all, acknowledge the injustice, pain and suffering inflicted on the Japanese American people by Executive Order 9066; and be it further
Resolved, That we, along with the people of Oregon, pause to reflect upon the lessons learned from the Japanese American incarceration experience, appreciate the contributions that immigrants and refugees bring to our nation and commit to valuing all Americans, irrespective of their ethnicity, religion or country of origin.
They will carry forward a new generation in the pursuit of justice, social and civil rights for all of humanity.