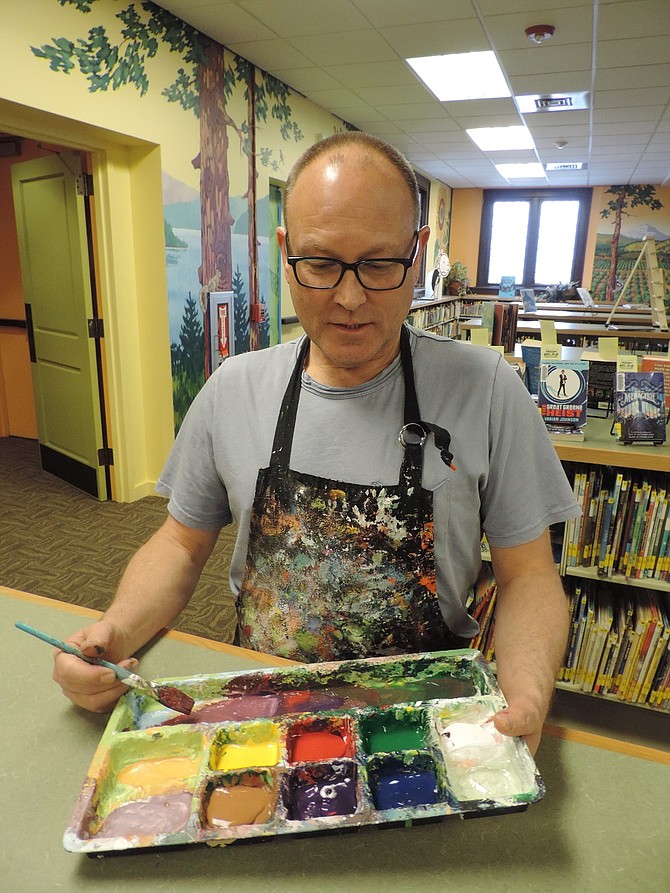 "It lets the architecture speak," Mark Nilsson said of his new mural in the children's section of Hood River County Library. "There are a lot of walls here, and angles, and they're broken up. Initially I was going to paint on the angles but I decided to keep them as natural breaks."
Nilsson's mural and many of his other murals and works, and other artists, will be profiled in the Panorama annual section, April 8.
"I'm very proud of it, it's quite something to pull it all together. Someone said it's subtle, it doesn't scream at you." Nilsson worked with library staff including children's librarian Jana Hannigan.
Nilsson created vignettes for all four seasons flowing into each other, but with an homage to agriculture. Complementing the murals are Ben Bonham's wooden book display frames resembling pickers' ladders.
Nilsson points to sunflowers connecting summer to fall, and the wintertime birch scene over the main entrance to the children's section. All geographical points of reference – Mt. Adams, Mt; Hood, the Twin Tunnels, Hood River Bridge — are lined up with their physical location. Details include Tsagalgal, the ancient "She Who Watches" petroglyph, and everywhere are blossoms and fruit of apples, cherries and pears. They are beautiful, but accurate; Nilsson depicts the bug-bitten leaves along with bright cherries.
"It pays homage to our agriculture and our history," Nilsson said of his library mural, which for sheer linear feet compares to his series of murals in Kidz Zone Dental. "Other large murals I've done in sections, but this was one job to pull together at once.
"This kind of project they let me do my thing. We talked about the theme, and let me go." But he added, "Jana really wanted the birch trees."