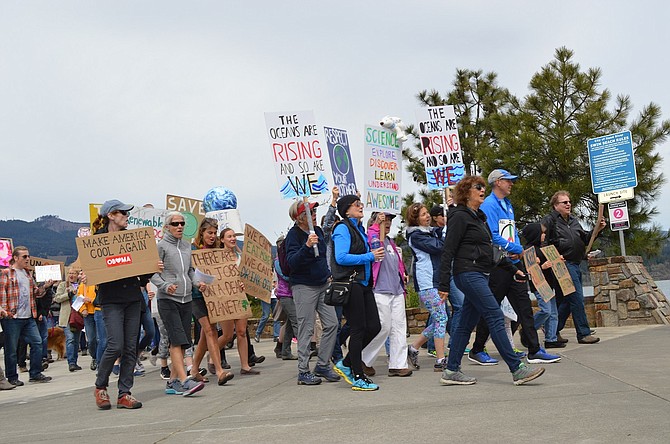 Voices of protestors rang out against President Donald Trump's environmental policies Saturday morning at the People's Climate and Justice March in Hood River.
The demonstration drew about 200 people in a rally and procession from Hood River Waterfront Park to Georgiana Smith Park at the Hood River Library.
The event was a satellite of a nationwide march planned in Washington, D.C., and all over the country. It was the final event in April celebrating Earth Week in the Gorge, planned by a coalition of youth, indigenous, Latino and environmental groups. On April 22, an Earth Day march in White Salmon brought in roughly 250 people.
Opening remarks and songs, accompanied by guitar and piano, began at Waterfront Park, followed by a march to the library and a closing ceremony after the rallying crowd waved signs in the line of sight of passing drivers on Oak Street.
"The oceans are rising and so are we," read one of the signs.
During the march, the group kept to the sidewalks, chanting as bagpiper George Economu led the charge.
"A change has occurred. People are finally stepping up (against Climate Change)," said Sofie Larsen-Tesky, president of the Hood River Valley High School Earth Action Club.