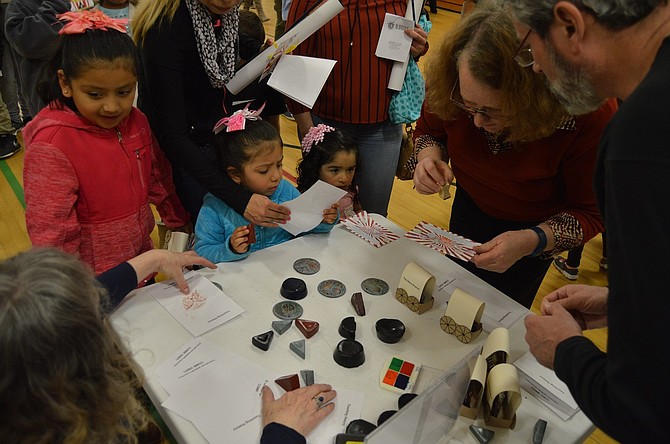 An estimated 500 children and their families gathered April 28 for Día de los Niños/El Día de los Libros (Day of the Children/Day of the Books). The event was sponsored by the Hood River County Library District and held at Mid Valley Elementary.
Patty Lara-Martinez, Hood River County Library bilingual outreach specialist, started the annual event four years ago. The first year, it was held in Parkdale and featured the movie "Frozen." The second year, she moved it to Odell and held a Zumbathon for kids. Last year, she decided to put together a "Carnival" resource fair, a theme she continued this year.
"I think I had over 300 people last year," she said. "I gave out about 150 books."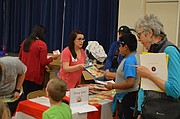 This year, she gave out more than 250 books — the grand prize for visiting nine booths and receiving a stamp at each. She credits the increased numbers to participating organizations who advertised the event, including spot ads on Radio Tierra and flyers sent home from Mid Valley Elementary.
"It was a community effort, honestly, because everyone pitches in and helps a lot," Lara-Martinez said.
The idea is simple: Gather community resources in one place and offer games and prizes to engage kids, while passing out needed information and materials to adults.
"With everything going on right now … I wanted people to feel comfortable and have people from (various) agencies there," she said, including the Hood River County Sheriff's Office and U.S. Forest Service.
Since its inception, word of the resource fair — and its "Carnival" theme — has spread.
"Since last year, I've had a couple of organizations saying, 'Hey, I heard this was going on, can I be a part of it?'" she said. "It's cool, because now people are contacting me to be a part of it."
She had volunteers Magali Lara, Marina Heredia, Felipe Mendiola and Jesus Lara on hand, passing out book tally cards, making sure all booth participants had nametags and stamp pads, and, in the case of Mendiola and Jesus Lara (her husband), helping move heavy boxes of books that were then passed out to children.
Hood River County Library District, One Community Health, Mid Valley Elementary and Hood River Valley High School, State Farm Insurance, Odell Hispanic Drug Prevention Coalition, Gorge Grown Food Network, St. Francis House, Hood River County Health Department, Hood River County Prevention, OCDC, History Museum of Hood River County, Hood River County Sheriff's Office, Oregon Human Development Corp., Hood River Aquatic Center, Mid-Columbia Center for Living, Radio Tierra, OSU Extension, The Next Door, Cascade Eye Center, WorkSource The Dalles, Hood River Latino Network, Juntos, U.S. Forest Service and Columbia Gorge Community College ESOL department all manned booths in the carnival-like setting. Information on legal services for farm workers was also available. A food cart had been booked, but canceled at the last minute; Lara-Martinez said Michoacán Sports Bar & Grill, located in downtown Odell, "was awesome," giving a discount to event participants who walked over from the school.