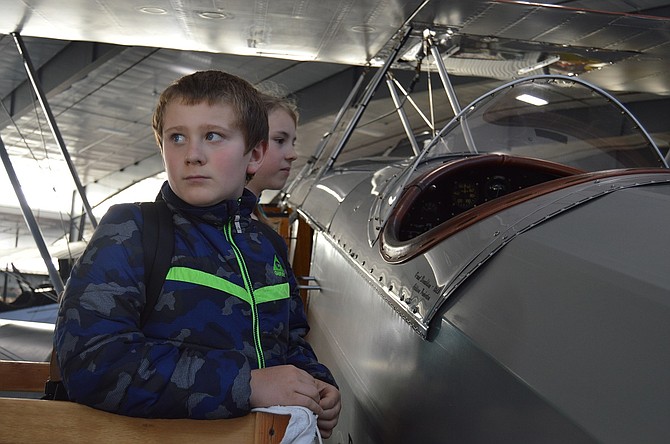 "Everything you see in here flies."
That's how Russel Paddock, volunteer at Western Antique Aeroplane and Automobile Museum — better known as WAAAM — began his tour showcasing the museum's antique cars and planes to a group of May Street Elementary Prime Time students.
May Street Prime Time Director Janis Ferrell had arranged the tour of WAAAM as an end to a special art project: Local artist Rod Stuart had led students in the after-school program in the construction of wooden airplanes, and now they were looking at — and learning about — the real thing.
The tour included a look inside the new 45,000 square foot addition — and the planes and autos it holds — as well as a close look at a Model T Ford that Paddock knew quite a bit about.
Not surprising, as it belongs to him — and his mother taught him how to drive it. He's restored it and takes it out periodically for parades.
He also pointed out a 1917 Curtiss "Jenny," which will make its 100th anniversary flight this year.
Paddock estimated that WAAAM holds about 135 antique planes and gliders, and another 150 or so automobiles. It's also home to a rather extensive antique toy collection. Visitors are also encouraged to sit down at one of the media centers to watch films on the various models in the museum's collection.
•
Stuart, who is part of the Artists in Education program and works with eight to 10 schools per year throughout the Gorge — usually elementary — is known for his found object works and brings that style of creativity into his teaching. Stuart also participated in this year's Gorge Artists Open Studio Tour, and recently joined its board.
While the May Street Prime Time project focused on wooden airplanes, he's taught classes on wooden boats, cars and trucks, as well as making models and landscapes … out of cereal and pizza boxes.
"It took three days for the airplanes," Stuart said. "I cut the parts ahead of time, and then we hot glue or nail them together."
He finds many of his materials in the Kreig Millwork dumpster, he said, and collects toys to serve as examples for his students. May Street students used all manner of paint and embellishment to make their planes their own — from pompoms to stickers.
•
Join the Western Antique Aeroplane & Automobile Museum on May 13 to hear Pacific Northwest Pilot Addison Pemberton talk about his 2008 Transcontinental Airmail Reenactment Flight at 1 p.m.
The airmail network was one of the original spider webs that ran across the country, connecting Americans like never before. In 2008, three pilots set off to commemorate the 90-year anniversary of the U.S. airmail with their antique airplanes. It took them 28 flying hours to travel from New York to San Francisco. They stopped at all 15 of the original transcontinental airmail route stops.
Two of the three airplanes that participated in the reenactment are on display at WAAAM: Pemberton's 1928 Boeing 40C and a 1927 Stearman C3B. These airplanes will provide the backdrop for the talk.
Other action, such as antique automobile rides, an aircraft restoration shop tour, and TacAero's biplane rides will occur between 10 a.m. and 2 p.m.
Open 9 a.m. to 5 p.m. daily, the Western Antique Aeroplane and Automobile Museum collects, restores, preserves and exhibits airplanes from the Dawn of Flight through the Golden Age of Flight and historically significant cars and trucks from the first half of the 20th century. WAAAM is located next to the Hood River Airport, at 1600 Air Museum Road, just off Tucker Road about a mile south of Hood River. Admission for adults is $16, 65-and-over is $14, kids between 5 and 18 are $7, and under 4 are free.