UPDATE: The print version of this story carried an incorrect headline. The body text of the story included the correct date of the event: Sunday, May 14.
The first-ever Hood River Latino Festival takes place on Sunday, May 14 from 11 a.m. to 8 p.m. at the Hood River County Fairgrounds — an event coordinated by the newly established Hood River Latino Network.
The festival is free, said Martha Verduzco, Hood River Latino Network president, and is meant to introduce the new group to all members of the community.
"We want the whole community — for our Anglo community — to come out and see the Latin talent that we have," she said. "We want to unify the communities more than anything"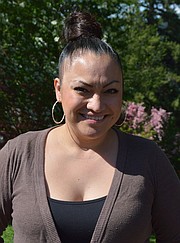 Hood River Latino Network was created about a week after the March 16 pro-immigrant march in Hood River, which started on the Heights and ended downtown.
"We saw a need of getting together because of the new administration and the changes going on in immigration, and the whole driver's license issue," she said, referring to the failed Oregon Alternative Driver Licenses Referendum, Measure 88, on the Nov. 4, 2014, ballot, which would have made four-year drivers licenses available to those who could not prove legal presence in the U.S.
"We saw the need because of a lack of information in the community — Latino, and immigrants in general," she said.
The group's mission: "To empower and advocate for the most vulnerable by creating opportunities and making sure government is held accountable."
The festival will highlight Latino musical talent and informational booths from around the Gorge, all of which will be free. Additionally, food vendors will be on site.
"There will be a lot of information on what we're doing to try to get the driver's license measure back (on the ballot) … and information on voting, and what's going on with the issue of detainees in NORCOR," she said.
"(We want to) introduce the program to the community, so people know they have a place where they can call or email or send a message on Facebook," Verduzco said. "We're here to help, that's our main mission: To provide information and help, and be a resource for our community, at no charge. And encourage people to become members of this group and participate, to be involved in events and what's happening in the community."
There's a lot of worry in the valley, she noted, including famers not knowing if they'll have the migrant workforce for this year's crop.
"There are so many parts to it that everyone's worried about," she said. "There are so many things we want changed — for the good of everybody."
For more information on Hood River Latino Network, visit the website at www.hoodriverlatino .com or email hoodriverlatino@gmail.com.