Hood River Valley Residents Committee celebrates four decades of serving this place on May 21, starting with a 3:30 p.m. social.
The committee will gather founders, longtime members and people new to the organization at Crag Rat Hut in Pine Grove, south of Hood River. The event is open to the public.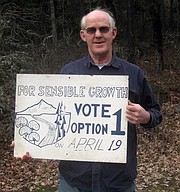 The Hood River Valley Residents Committee was founded in 1977 to support Oregon's recently passed Senate Bill 100, which led to Oregon's current land use system.
At 4 p.m., committee leaders will present "Walk Down Memory Lane" with highlights of the group's history, followed by a buffet dinner at 5 p.m. served by The Huck Truck, and cutting of a 40th birthday cake.
Parking is limited on site, so car-pooling is encouraged; look for parking at Pine Grove School and a shuttle bus to the nearby Crag Rat site. Call board member Polly Wood for details at 541-490-5443.
Without the Residents Committee's work, the Hood River Valley would be a very different place today, according to Executive Director Heather Staten.
"Our first action was a campaign to change the zoning in the upper valley, which had been zoned in one acre lots," Staten said. "Then on to opposing several destination resorts near Parkdale, which would have destroyed much farm and forest land and totally altered the rural character of the valley."