For years, it's been Summit's world, and the other boys teams in Special District 1 have just been living in it.
That remained true last weekend in Sunriver, where Summit once again torched their competition, scoring 57 points and gobbling up 10 of the possible 12 qualifying spots — a district record, according to the Bend Bulletin — for the 5A state tournament that will be held May 18-20 in Portland. Second-place Mountain View was light years behind with 17 points.
But despite Summit's prowess, the HRV boys still found success in Sunriver, placing just behind Mountain View at 16 points, which put them in a tie with Bend for third place. And out of those two qualifying spots that Summit didn't take, HRV junior Sawyer Bogard took one of them. He is the first HRV tennis player to qualify for the state tournament since Scottie Ziegner did it his senior year in 2015.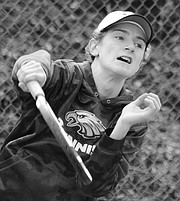 "We did great," HRV Head Coach Jon Hiatt said. "The team tied for third place with Bend. Everyone on our team scored a point for the team."
Bogard made it the farthest, obviously, for HRV in the singles portion of the tournament, finishing in fourth place after advancing three rounds — first via a bye, next by 6-2, 6-0 win over Bend's Jasper Ladkin, and finishing off with a 6-3 win in both sets of the quarterfinals over Summit's Florian Mirkes. In the semifinals, Bogard ran up against last year's state tournament runner-up, Summit's Carter Quigley, who swept Bogard. In fact, Quigley lost only one game the entire tournament, and that was in the finals. Like at districts, Bogard will be a fifth seed in the state tournament, going up against Carsten Gilje, an exchange student at St. Helens. Gilje, a senior, defeated Bogard in a close match during HRV's season-opener March 16 at St. Helens.
Carson Schutt also fell victim to Quigley in a second-round sweep after Schutt defeated Mountain View's Kevin Pfeil (6-4, 6-1) in the opening round. Simon Harsanyi rounded out singles play for the Eagles, defeating The Dalles' Pedro Lopez in a tight first-round game (7-5, 6-4), then falling to Summit's Nick Guyer (6-1, 6-2) in the next round.
In doubles competition, Jay Fiedler and Ben Fick made it out of the first round, squeaking by The Dalles' Devam Petel and Justin Eiesland (7-5, 7-6), before losing to Hermiston's Patrick Wicks and Thomas McCullough (6-0, 6-3) in the second. John Hunter and Chris Riviello also advanced, beating Bend's Magnus L'argent and Kyle Taylor (7-6, 6-4), before getting swept by the Summit three-seed duo of Ricky and Joshua Marine.
Adam and Luke Harter and Arnulfo Perez did not make it out of the first round and were relegated to the consolation bracket. The Harters lost to Bend's Grant Miller and Brown (no first name given, score on results sheet incomplete), and Arnulfo Perez and Reece Carrol lost to Hermiston's Jason Morris and Koby Grigg (6-4, 6-1). In the consolation round, the Harters defeated Hermiston's Tovey/Pitney (no first names given) by a score of 8-1 in the quarterfinals after receiving a first-round bye. They then lost to L'argent/Taylor in the semis. Perez and Carroll did not get a bye, but took down Pendleton's Easton Phelan and Stanton Schmitz (no score given). The duo then defeated The Dalles' Ethan Martin and Brandon Bustamonte (8-3), but lost in the semis to Mountain View's Wendorff/Baldwin (no first names given) by a score of 8-1.
Girls tennis season ends at districts
Despite one of the best regular seasons in years, the girls tennis team was unable to get past the Summit juggernaut, and failed to qualify anyone for the state tournament. The Storm took three of the four doubles spots and two of the four singles spots.
HRV Head Coach Erin Mason, who could not be reached for comment by press time, posted on his Facebook page that two of his 11 players made it out of the first round, but then "had some tough losses in our second matches." Claire Oswald and Bianca Badillo did battle their way to the consolation championship after losing in the first round of the tournament, but lost the consolation championship in a third-set tiebreaker, Mason reported.
"I had a few coaches come up to me and say they admired them for playing so hard in a consolation match," Mason wrote on his page. "They are a great representative of our team and program. Go Eagles, we will be back in one year."