The Horizon boys weren't able to get a threepeat in the Special District 3 championships last Saturday, but both the boys and the girls track teams found plenty of success, finishing second out of the 10 teams in attendance, setting nearly 20 personal records, and sending 10 athletes — some in multiple events — to the 1A state championships May 18-19 at University of Oregon's Hayward Field in Eugene (top two athletes in each event automatically qualify).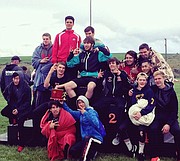 The boys couldn't quite catch host Sherman, who scored 126 points to Horizon's 111. The Hawks pushed ahead of Dufur (92) to grab second. The girls scored 93 points, edging third-place Sherman (86) and well behind winner Griswold (143). It was an improvement on the girls' third-place finish last year.
For Head Coach Emma Petshow, it was a satisfying weekend.
"I am proud of how both the girls and boys team overcame adversity this season — our unspoken theme — specifically at the district championships, to come back and place second overall," she said. "Before districts, we always have a team meeting. At this meeting I said, 'We cannot control what other athletes, coaches, or teams do. The only thing we can control is ourselves, how we compete, perform, support our teammates, and drive each other to be the best we can be.' I saw that team show up on Saturday both in their actions and their marks."
All the teams had to battle a "surprise hail storm" that descended upon Moro, and the Horizon girls specifically had to overcome adversity from the get-go in the 4x100-meter relay — an event in which the Hawks received no points due to a botched handoff.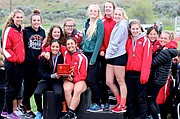 "Some athletes would have let that destroy them mentally, but all four girls (Haley Becnel, Savanna Hawk, Jodee Hicks, Kaitlin Wenz) came back and had individual and team success," Petshow noted. Wenz in particular had a great day, especially as a track and field neophyte, taking third in the 200 and qualifying for state in the 300 hurdles with a second-place finish. Becnel, Hawk, Paulina Finn, and Wenz then returned to finish third in the 4x400, with their time of 4 minutes, 41.38 seconds earning the relay a wildcard spot.
"For an athlete who is completely new to track, (Wenz) has had success in multiple events and even though initially had fear with the hurdles — I mean who doesn't — has really come into her own and faced the fear head on," Petshow said.
The lone title for the girls went to Finn, who defended last year's top finish in high jump by jumping 5-feet-1-inch before coaching staff shut her down to save her legs for her other events. Finn scored 26 points in all Saturday — more than any other Horizon athlete.
"Watching her compete is rewarding as a coach, because she is a true athlete and competitor and so deserving of success," Petshow said of Finn.
However, one of the most rewarding moments of the meet was watching senior Amy Requa finally qualify for state in the 3000, finishing in second and breaking the 12-minute mark and her own school record in the process.
"Amy is an athlete who has worked since her freshman year towards this goal. To finally see her achieve this, something that she has earned and deserves so much, was rewarding for our whole coaching staff… to be honest, there were not many dry eyes after that moment of pure joy," Petshow said.
For the boys, their adversity in the relays was less of a surprise: the team recently lost second leg of their 4x100, Andy Hung, to "a severe quadriceps injury," and plugged in alternate Andrew Rinella.
"With their eyes on a state championship at the beginning of the year, losing Andy was hard on the whole team, but especially Andy," Petshow explained. "They came together, though, and with strong alternate Andrew Rinella stepping up to join the lineup, ran a strong time, making it to state."
Luke Holste had the lone first-place finishes for the Horizon boys, sweeping the 110 hurdles and 300 hurdles for the second season in a row, running his best times of the season in both events. Quinn Roetcisoender also had a great performance in pole vault, finishing second and setting a new personal and school record with a vault of 12-6.
One of the boys' qualifiers didn't find out he had done so until he was on the bus. Connor Wells had run a solid 800 race, dropping a time of 2:11.17, but was passed in the final 100 meters that landed him in third and just out of a qualifying spot. Petshow said Wells was obviously disappointed in himself with the result, which was why she relished giving him the news that he performed well enough to earn a wildcard spot.
"The joy, smiles, and excitement that came next made my night and I am excited to see him run at the big stage," she said.
Horizon track scorers (top eight finishers, * denotes state-qualifying finish)
Boys
100 meters: Bailey Holste, 6th (12.57 seconds); Enoch Zhang, 8th (12.70)
400: Andrew Rinella, 4th (56.50); Kyle Brown, 8th (58.82)
800: Connor Wells, 3rd (2:11.17)*; Ian Walker, 7th (2:21.73)
1500: Ian Walker, 4th (4:41.25, personal record)
3000: Wells, 6th (11:45.47); Gunnar McCaw, 7th (12:03.47)
110 hurdles: Luke Holste, 1st (17.34)*; Thomas Foley, 7th (21.45); Tony Li, 8th (21.46, PR)
300 hurdles: L. Holste, 1st (43.76)*; Quinn Roetcisoender, 3rd (44.37, PR)
4x100 relay: B. Holste, Rinella, Roetcisoender, L. Holste (2nd, 46.44)*
4x400 relay: Rinella, Walker, Brown, L. Holste (4th, 3:51.63)
Shot put: Sam Schneider, 6th (39-feet-7-inches, PR)
Discus: Andrew Wells, 4th (113-9); Schneider, 6th (108-8, PR)
High jump: B. Holste, 5th (5-0)
Pole vault: Roetcisoender, 2nd (12-6, PR)*; Brown, 5th (10-6, PR); Rinella, 5th (9-6)
Long jump: B. Holste, 6th (18-9)
Triple jump: Roetcisoender, 3rd (38-1.5, PR)
Girls
100: Haley Becnel, 3rd (14.10, PR)
200: Kaitlin Wenz, 3rd (29.37); Becnel, 6th (30.87)
400: Paulina Finn, 2nd (1:04.92, PR)*; Miranda Roberts, 6th (1:15.77); Kloee Brown, 7th (1:18.19)
800: Mattea Schwab, 5th (3:00.41); Claire Wu, 7th (3:05.34)
1500: Amy Requa, 6th (6:22.02)
3000: Requa, 2nd (12:56.93, PR)*; Wu, 6th (15:09.05)
300 hurdles: Wenz, 2nd (51.73)*
4x400 relay: Becnel, Savanna Hawk, Finn, Wenz (3rd, 4:41.38)*
High jump: Finn, 1st (5-1)*
Pole vault: Hawk, 2nd (6-6)*
Long jump: Jodee Hicks, 5th (13-11, PR)
Triple jump: Finn, 2nd (33-7, PR)*; Hawk, 8th (23-7.5)