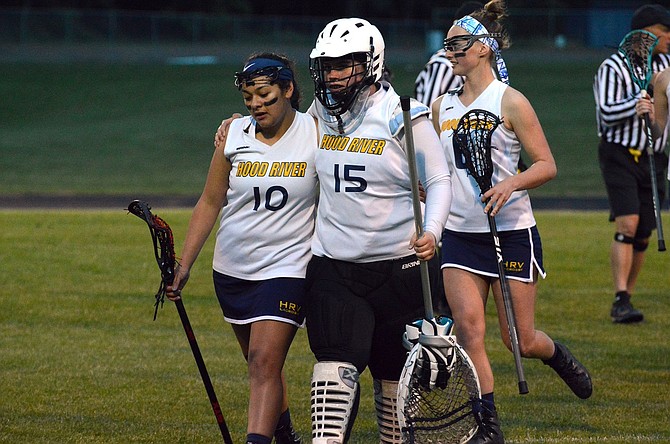 Last week, the HRV girls lacrosse team made short work of Lincoln in their final Portland League contest of the regular season, going on a 5-0 run in the first 13 minutes of the game on their way to a 16-7 win over the Cardinals.
After wrapping up the regular season with a 15-5 drubbing of the Bend Lava Bears on Friday, the Eagles learned they would be playing the Cardinals again, this time Monday evening at Henderson Community Stadium in a first-round matchup of the Gold Bracket of the state tournament. HRV entered the playoffs having won 11 of their last 12 games.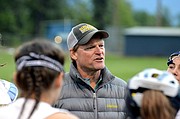 Monday's game started similarly to the two teams' previous meeting. No. 7 HRV dominated No. 10 Lincoln from the first draw, cruising to a 5-1 start within the first 12 minutes of play. But a furious Lincoln rally in the second part of the first half seemed to catch the Eagles off-guard, as the Cardinals scored three goals in the span of little more than a minute. The Cardinals were able to hold the Eagles to just one goal the final 13 minutes of the half, while they scored two more of their own, taking a 7-6 lead with less than three minutes to go. The Eagles would never regain the lead, ultimately losing 13-10, and thereby ending their season.
Despite how the last contest with Lincoln went, HRV Head Coach Andrew McElderry wasn't completely surprised at the result. Although the Eagles beat the Cardinals by nine goals in their previous outing, HRV allowed Lincoln to gain possession in the second half, and they parlayed those possessions into goals. Monday evening, the Eagles struggled with possession and 50/50 balls, with McElderry noting his team "didn't keep our typical composure and temperament" that helped the team win 12 games this season.
"I knew we would get a game tonight," he said, watching his team pack up the field for the last time this year. "I knew (Lincoln would) come out hard-charging and they were going to be hungry. It just came down to which team was hungrier tonight. And they had a hunger in them."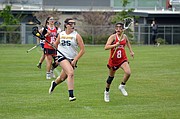 HRV tried to regain their composure in the second half as they chased the Cardinals, tying it up at 9-9 on a goal from Alex Willis with less than 14 minutes to go. Lincoln scored again 30 seconds later, but Kat McElderry (three goals) found the back of the net, making it 10-10 with nine minutes to go. It would be HRV's last goal of the night as the Cardinals scored three unanswered goals and largely played keep away for the final few minutes of the game. Some inspired play by Abby Bartles (four goals) and goalkeeper Ella Rand (nine saves on 22 shots, 41 percent) wasn't enough to carry the Eagles to victory (Terra Mikkelsen and Emma Norris also had a goal each).
Though McElderry would have liked to have seen his team go deeper into the Gold Bracket, he was pleased with how strong his team was, especially considering their youth.
"We've got such a well-balanced team, there's not a weak link on the field. We can exchange players as much as we want and know that we're putting someone strong on the field," McElderry said. "I looked at this year and saw a bunch of freshmen coming in and thought, 'They need to learn how we do things and this will be a building year.' Well, I think we went well beyond a building year. We finished seventh in the state and I'm really proud of them."
The team will lose seniors Daisy Dolan, Riley Bauer, and Blair Holman, but will largely remain intact next year, particularly on offense. Of HRV's top three goal scorers this season, two are freshmen (Katie Koenig and Norris) and one is a sophomore (Bartles). They combined for 131 of HRV's 243 goals this season. Because of that, McElderry expects the team will be further along when they start again next spring.
"I can't be more proud of them; I really can't," he said. "The future is bright for Hood River lacrosse."